Foothillers' Mata no bush leaguer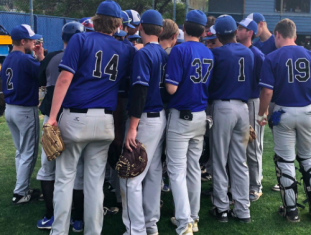 La Jolla Country Day on Wednesday against Grossmont.
2019 EAST COUNTY PREP BASEBALL
East County Sports staff report

EL CAJON (5-16-2019) – The coachingstaff for La Jolla Country Day needed to make a choice on which member of the Grossmont Foothillers to pitch to.

For Hillers junior shortstop Anthony Mata, the braintrust of the Torreys made a seriously wrong selection.

Mata countered the strategy of issuing a pair of intentional walks to face him, lacing a walk-off single to center field to score Keoni Valdez in Grossmont's dramatic 7-5 triumph in Wednesday's (May 15) CIF first-round contest at Gizoni Field.
"I was excited and hungry for that opportunity," Mata said. "I wanted to be the guy to seal the deal and get the team our first win of the playoffs."

The Hillers, once down 5-2, scored in the 5th, 6th and 7th to avoid the upset.
"It was a team effort and showed the resilience we have and our ability to come back from behind," Mata said. "It was really just a matter of everyone executing and it just happened to be me that got the big knock at the end."

Valdez originally forced the issue with his second hit of the ballgame with an infield single. A grounder to the right side by Danny Yanez send Valdez to second base, making it decision time for the Torreys.

Intentionally walking Justin Brown was a no-brainer, giving LJCDS the possibility of turning a double play. But when the coaches also elected to issue a free pass to Max Ford and force Valdez to third base, that was too much for any batter with any amount of pride to take.

And Mata delivered on the very first pitch with his drive to center field.

The base hit made a winner of Hillers pitcher Jack Hyde, who made his first appearance in more than a month. He was originally listed to be out three weeks, but when the team slid out of the race for the Grossmont Hills League title, the senior was saved for playoff action.

Hyde (6-2), in his first appearance from out of the bullpen this season, issued a lead walk in the seventh, but then set down the next three batters, including the final two on strikes.

The Torreys tallied five times in the third to assume a 5-2 advantage. However, reliever Jake Romero entered to put out the fire.
"I did not know if I was going to pitch today," Romero said. "I knew if my number was called that I had to be ready to compete.
"I had some nerves coming out, but I got settled as my outing went deeper. My strikeout pitch was definitely my curveball,  utilizing it to cap off the three of my four strikeouts."
Romero finished with 3.2 innings of shutout ball, yielding just a pair of base hits.
"For a freshman that has thrown three innings (this season) that was a huge performance for us," Grossmont head coach Jordan Abruzzo said. "He kept us in it and Mata came up clutch at the end."

The comeback started in the fifth behind an RBI double by Valdez, then a another ground ball to the right side by Yanez to trim the deficit to 5-4.

An inning later, Grossmont got even on a sacrifice fly from Zakary Farris, scoring Mata, who lined a leadoff single to right field.
"I felt like I was finding the barrel in my two prior at-bats, so my thought process was to keep putting good swings on baseballs and something good was bound to happen and it did," Mata said of his game-winner. "I was sitting on a fastball and I saw one first pitch so I pulled the trigger, the rest took care of itself.
"The team is happy and is ready to go back to work and prepare for Saints, who we have Friday. It was a good momentum swing for the team and we are ready to leave it on the field in every game we play."

Grossmont (16-13 overall), which meets St. Augustine in a winners bracket contest on Friday, got two hits each from Mata, Valdez and Brandon Smith.
"It's never easy in the playoffs and we made it tough on ourselves early," Abruzzo said. "But we stuck together and found a way to win."
La Jolla Country Day (13-17) received a two-run, go-ahead double from sophomore Ben Pajak when the Torreys scored five times in the third, off-setting a pair of Hillers runs in the first.
Grossmont, the two-time defending Division I champs now have another solid arm for an outing or two down the stretch, along with the return of its ace, Hyde.
"Jake Romero is a young talent in the program and has already shown great potential and has displayed that potential on multiple occasions," Mata said. "When he is on the mound and pounding the zone the way he can. Having him come up in such a big-time situation and handling the pressure was great to see.
"We know that he can keep us in games and all we have to do is make the routine plays behind him and get him some run support and we will be successful. He is going to be a great asset to the team for years to come."

Notable: Torreys head coach John Edman has a son, Johnny, playing Triple-A baseball for the Memphis Redbirds, the affiliate of the St. Louis Cardinals. The middle infielder is batting .336 through Tuesday's action.