ROUNDUP: Wolf Pack, Norsemen stay alive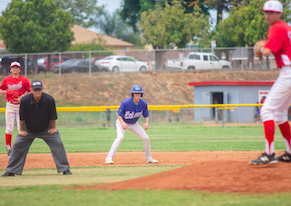 Sweetwater delivers to West Hills on Saturday. / photo by Melissa Honick Photography
2019 EAST COUNTY PREP BASEBALL
East County Sports staff report

NATIONAL CITY (5-19-2019) – In a record-breaking day for the West Hills High baseball program, shortstop "Killer" Joe Thrailkill equaled a school-mark with four hits in a playoff game, as the Wolf Pack  equaled another mark with their third postseason victory of the year in eliminating host Sweetwater, 10-1, in the CIF Division IV challenger bracket final held Saturday (May 18).
In addition, West Hills pitcher Gavin Kondyra may have performed the most dominating postseason performance in school annuals. After allowing three early hits, he capped the ballgame with 6.2 innings of no-hit ball.
Going to the mound with an early 3-0 lead, Kondyra allowed a first-inning run, then slammed the door on the Red Devils on four strikeouts in his complete-game effort.

West Hills (13-14 overall) advances to next week's semifinals, needing a pair of victories over Mt. Carmel to gain a championship berth. Game One is on Tuesday, with an "if necessary" playback finale slated for Thursday, both in Rancho Penasquitos.

In addition to Thrailkill's 4-for-4 outing at the plate, which included a double, two RBI and a pair of runs scored, cleanup batter Tommy McCormick and No. 9 hitter Peyton Honick each added two hits in the 12- hit attack.
The Wolf Pack runs came during four multiple-run innings, including three right out of the starting blocks on the ballfield located next to Gail Devers Stadium.

Sweetwater's pitching was obviously nervous, issuing a walk on four pitches to third baseman Kai Dennis, then Thrailkill surprised the defense with a bunt single.

Two outs later, McCormick lined an RBI single to left field. "T-Mac" would then execute a successful double-steal, taking second base as Thrailkill came home, then McCormick  scored on a pair of wild pitches.

Other highlights include a two-out, two-run single by McCormick in the third; consecutive run-scoring doubles by Dennis and Thrailkill in the fourth; and RBI singles by Thrailkill and first baseman Devin Bevilacqua in the sixth.

In Wolf Pack history, the only other time the school advanced to the Final Four came in 2003, It was also the only time the school posted three postseason victories in a single playoff season.

Sweetwater (16-14) received three straight one-out hits, capped by an RBI double from cleanup batter John Pyke. The season was a nice turnaround for a ballclub which went just 4-21 last season.

DIVISION III
VALHALLA 3, UNIVERSITY CITY 2: At Rancho San Diego, the double play came one batter too late for the visiting Centurions, as the Norsemen plated a pair of unearned runs in the bottom of the 6th inning to capture Saturday's (Ma 18) elimination contest in the CIF Division III playoffs.

Trailing 2-1, Valhalla loaded the bases on a one-out, line double by JoJo Ingrassia, Ryan Perot was hit by a pitch, then Riley O'Sullivan singled to left, but Ingrassia was held at third base.

University City then set-up for a double play, but the ensuing ground ball off the Luke Clark was misplayed and both the tying and go-ahead run scored.

Ironically, the next Norsemen batter did ground into an inning-ending double play, but the damage was already done.

Kyle Casper then entered from the Valhalla bullpen, pitching a 1-2-3 seventh — capped by a pair of strikeouts — to save the ballgame for starter Andy Boyd for his first victory of the season.

Early on, the first four Norsemen batters combined to give the hosts the game's first run.  Kasper and Trey Henige both singled, bunted along on a sacrifice by Ethan Dunnam. Ingrassia then lifted a sacrifice fly to center field to score Kasper.

Valhalla (22-9 overall) advances to the Final Four, needing to defeat Mita Mesa twice to gain a berth in the title game. The Marauders will host Tuesday's contest and an "if necessary" playback finale on Thursday.

University City (20-11) took the lead with single runs in the second and third. A sacrifice fly by Torger Berge scored Anthony Nelson. An inning later. Nelson nailed a two-out base hit to bring home Zay Pena.
DIVISION II
SANTA FE CHRISTIAN 2, SANTANA 0: At Solana Beach,
Eagles pitcher Stephen Pierson out-dueled the Sultans
junior Blake Taylor (1-2).

Santa Fe Christian (19-12 overall) advances to the
Final Four, meeting top-seeded Classical Academy. The
Centurions must win twice to earn a title game berth.

Santana (14-16) head coach Rigoberto Ledezma capped
his sixth season with a 110-75 overall record.

The Sultans had just one hit in the contest, coming from the bat of Cole Conteras in the fifth inning with one out.
Sean Iverson also drew a walk for Santana and Taylor reached on a hit-by-pitch.
Taylor pitched six innings, allowing three hits, two unearned runs and no walks.