ROUNDUP: Foothillers will go for thirds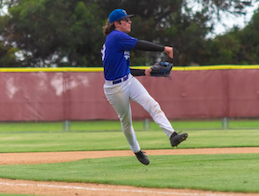 West Hills' KAI DENNIS following a throw on Tuesday. / photo by MelissaHonickPhotography
2019 EAST COUNTY PREP BASEBALL
East County Sports staff report

EL CAJON (5-22-2019) – The decibel level around the Grossmont High School campus might make folks working at Lindbergh Field take notice. Between the CIF playoff games on the fields for baseball and softball, fans of the Foothillers were in good moods after both advanced with important victories.

In baseball, the Hillers not only knocked off league rival Granite Hills, 7-5, but they also advanced to the CIF Division I championship game in seeking a third straight San Diego Section crown.

The Division I title game is slated for Friday at 7 p.m. from Tony Gwynn Stadium at San Diego State (admission and parking will be charged). Grossmont will meet the winner of Wednesday's playback final in the other half of the draw between Madison and Westview, to be held in Clairemont Mesa.

The audible pitch at Gizoni Field reached a pinnacle in the 5th inning when the Hillers tallied four times to overcome a 5-3 deficit.

The game-tying runs came when Brodie Romero was hit by a pitch to leadoff, then Keoni Valdez was walked on four
pitches.  Both scored on an ensuing line double by Danny Yanez, who carried the ball to the fence in
left field.

Justin Brown reached on a dropped third strike (wild pitch), then Valdez registered the go-ahead run when a line single to center by Jamie Odom proved to be the game-winning RBI.

An out later, Brandon Smith's single provided the insurance run.
The outburst was enough to carry Grossmont freshman relief pitcher Jake Romero to the victory. He tossed the final 2.2 innings without allowing a hit.
"It was another great overall team win," Jake Romero said. "I'm glad I was able to contribute. I felt great and in control out there on the mound today."
Romero closed the contest by coaxing a ground ball, which the defense turned into a double play.
"After Danny came through with the big hit, I was ready to go out and finish the job," Jake Romero said. "Can't wait for us to go out and battle on Friday. We have a lot of talent on this team and we are ready to go."
Granite Hills held leads of 2-0 and 5-3, but the offense of Grossmont kept going, giving the ballclub its 15th win in the last 18 postseason contests.
"Great team effort," Grossmont head coach Jordan Abruzzo said. "Battled through some adversity and finally swung it like we are capable of. Granite Hills is young and talented. They are going to be tough to deal with in the future."
The Eagles scored first when Brian Smith lifted a sacrificed fly following a pair of leadoff walks and a ground out. Grant MacArthur then singled for a 2-0 lead.
Grossmont answered with three in the first over three consecutive batters, as Danny Yanez singled, Justin Brown doubled, then Odom reached on an error.
Granite Hills reclaimed the lead in the third on a game-tying error, then Sean McGrew also aired a sacrifice fly for a 4-3 lead.
The margin went to 5-3 in the fifth when Grossmont failed to turn a double play, getting the first out, but the throw to first base sailed away.
"Our freshman (Jake Romero) came in and did a great job," Abruzzo said.
For Grossmont (18-13 overall), Yanez, the cleanup hitter, batted 2-for-5 with three RBI and a pair of runs scored.
"I appreciate it and I felt great today," Yanez said. "We talked before as a team and emphasized hunting the fastball and that's what we did. Thankfully, our guys got on and I got a chance to drive them in."
Granite Hills (16-15) saw T.K. Parker garner both of the ballclub's two hits, as Grossmont aided the Eagles with three costly errors.
"What you would expect in a Granite-Grossmont game," Granite Hills head coach James Davis said. "Proud of my guys the way competed. T.K. Parker had a helluva of game. Sean McGrew gutting out back issues all year."

OPEN DIVISION
POWAY 9, HELIX 0: At La Mesa, the Scotties suffered their most-decisive playoff loss in school history Tuesday (May 21) in falling to the visiting Titans to end the season one round short of the CIF Open Division finale.

The one-side setback broke the mark set by Grossmont in an 8-0 decision in 1993. Meanwhile,  Poway advances to meet Eastlake in the championship after the Titans eliminated Torrey Pines, 3-1.

Helix pitcher Alonzo Richardson, a leading candidate for both Grossmont Hills League and East County player of the year
laruels, had his roughest outing of the season.
He couldn't get out of the 2nd inning, as Poway scored seven times to mount an 8-0 cushion. The key hit was a 3-run homer by Taylor Johnson, the leadoff hitter.

Conversely, Poway (26-5 overall) utilized a trio of pitchers in the combined 4-hit shutout. Winning pitcher Ivan Romero was pulled after 4.2 frames in case he's needed against Eastlake. He struck out three.
Helix (20-13) saw No. 9 hitter Ayden Estrada, the second baseman, collect half of the ballclubs' four hits with a double and a single.
"I saw the ball well battling out counts as always and just feeling relaxed," Estrada said. "We had a great season and we'll be ready for next year."
The Highlanders, which have posted a composite mark of 82-47 (.636) during its current run of four
straight league titles, return three of their four members of the current pitching staff – all four have NCAA Division I commitments.
Leaving is senior Christopher Paruleski, who heads for Cal State Northridge. Coming back are seniors-to-be in Richardson (San Diego State), Jordan Thompson (Louisiana State) and Thomas Caneday (Nevada).
DIVISION II

VALHALLA 1, MIRA MESA 0: At Mira Mesa, Norsemen pitcher Riley O'Sullivan fired a 6-hit shutout
while Ethan Dunnam drove in Trey Henige with the game's lone run in the 7th inning, nipping the
Marauders at the wire in a CIF Division II contest.
With both sides now saddled with one loss, they will meet again on Wednesday to determine which will play in the division title game.
O'Sullivan finished with a season-high 12 strikeouts, giving him double-digits in whiffs for the third straight outing in moving his season record to 6-2.
Meanwhile, Dunnam's lone hit was a line double to left field.
Kyle Casper started the seventh with a single, then was balked to second base. Henige then placed a sacrifice bunt, although the pitcher went to third base with the ball, and Casper beat the throw.
Valhalla again tried a double-steal, something well documented as a common strategy by Orange Nation, but Mira Mesa was well-prepared with Casper easily out at the plate.

However, the small-ball factor went out the window when Dunnam  drilled a 3-2 pitch for the RBI, the
only dent against Marauders sophomore pitcher Jackson Betancourt.

For Valhalla (23-8), Casper recorded half of the ballclub's four hits.
Mira Mesa (17-13-1) saw Gabe Jones and Ryan Fletcher — both seniors — collect two hits each, the lone hits off O'Sullivan.

DIVISION IV

MT. CARMEL 2, WEST HILLS 1: At Rancho Peñasquitos, the host Sundevils shut down the Wolf Pack for the second time in a week, advancing to the CIF Division IV title game.After West Hills was shutout by Mt. Carmel in first round, this time, the Pack's only run came on a balk.Still, the first-inning run gave the Pack the lead, only to see Mt. Carmel win it on a pitch to the backstop in the fifth.

For West Hills (14-16 overall), the playoff run is considered one of the best in school history, matching the 2003 squad which also reached the
semifinals thanks to a record three postseason victories.
Not too bad for a team that started the season with an awful 1-9 mark before going 13-7 the rest of the way.
Leading the offense was third baseman Kai Dennis (2-for-4), who opened the game with a double, moving to third on a Joe Thrailkill single before
scoring on the balk.
However, Sundevils pitcher Dillon McDermott shut down the Pack over his 5.1 innings. Reliever Ty Webster garnered the victory with 1.2 frames of no-hit ball.
For Mt. Carmel (16-15), second baseman Ryan Murphy hit a two-out, RBI single in the fourth to tie the contest.


DIVISION V

HIGH TECH CHULA VISTA 9, MOUNT MIGUEL 2: At Sweetwater Valley Little League in Bonita, the Matadors'
scouting reports were of no use after Orange Glen was disqualified from the CIF playoffs for overuse of a pitcher — they allowed someone to pitch 10.2 innings last week (the max is 10.0).

So instead of playing the Patriots, the Bruins took charge to avenge last week's 11-0 shutout loss and hand Mount Miguel its first setback in the CIF Division V tournament.
The playback final is Thursday, with the winner advancing to Saturday's title contest at Poway High.
"Rough day today, not much went right," Mount Miguel head coach Frank Coit said. "Early, some perfectly placed bloop hits against us put us in an early hole. We pounded some balls but right at fielders, unfortunately."
After both ballclubs scored once in the first, ending Mount Miguel's lengthy shutout streak, HTHCV tallied four times in the second, capped by a solo homer from Kai Saterstrom, then three more in the fourth to end it early.
"We will regroup and be ready for our win or go home game on Thursday," Coit said. "One game, everybody has them, we, unfortunately, had one today. But we will put up a great fight and compete hard on Thursday, I am sure of that."
For Mount Miguel (13-18 overall), Austin Ortiz belted a pair of doubles, Erik Kelly also doubled, but the rest of the lineup collected just two singles.
"Not one of our best games in any facet," Coit said. "Credit to High Tech though, they played, hit, and pitched very well, we never really got a chance to mount a rally, every time we put men on they made some key plays to squash the threat."
Winning pitcher Jacob Robinette struck out seven, but fell one batter short of a complete game due to the pitch count rule, although at 109 pitches, he was eligible to face one last hitter, but after what happened with Orange Glen, the Bruins coaching staff elected to, understandably, not take a chance.
High Tech Chula Vista (18-5 overall) saw cleanup hitter Benjamin Williams bat 4-for-4 with two runs and a pair of RBI. while Ruben Roman went 3-for-4 with three RBI.