Matadors reach first section title game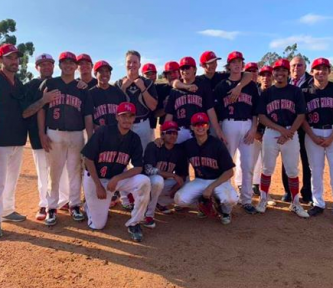 The Mount Miguel Matadors following their victory on Thursday.
2019 EAST COUNTY PREP BASEBALL
MOUNT MIGUEL 14, HIGH TECH CHULA VISTA 5
East County Sports staff report

BONITA (5-24-2019) – Mount Miguel High senior shortstop Austin Ortiz belted his first home run of the season, as the Matadors earned their first-ever opportunity to capture a CIF baseball championship after upsetting High Tech High of Chula Vista, 14-5, in Thursday's (May 23) semifinals of the Division V tournament held at Sweetwater Valley Little League.

In the 59-year history of the San Diego Section, Mount Miguel (14-18 overall) has never reached the title contest, but will in Saturday's meeting with neighborhood rival Morse (20-10), to be held at Poway High starting at noon.

Ortiz, the East County leader in doubles (12), belted his 2-run homer to left field in the fifth inning, when the Matadors piled up right runs to overcome a 4-2 Bruins advantage.

HTHCV (18-6) had defeated the Matadors in Wednesday's rain-delayed championship round, forcing a playback final.

However, the pitching staff shouldn't be too taxed after sophomore Thomas Ringer fired a complete-game at the Bruins. Ringer struck out four without yielding a walk to remain well under the pitch limit.

"We fought hard for this win and everyone played a part of it," Ringer said. "We fought back and persevered through adversity. We lost the first game and came back and won the second fighting for the first championship in school history. It is great to be a part of this journey and everyone should be proud of themselves because we all play a part."

Mount Miguel center fielder Cameron Beauzec also added three hits to fuel a 10-hit attack, extending his hitting streak to 11
games. In five postseason outings, the senior is batting .750 (9-for-12).

"We came back from behind today and never took the foot off the pedal," Beauzec said. "Grinding the at-bats, hustling down the line, and making great plays. We played baseball the way it should be played. Such a great win. Feels good to put up a lot of runs. Gives us all some confidence for Saturday."

The decisive rally in the fifth saw the first six batters reach base to take the lead.

The Bruins hit the first two batters — Ortiz and Nico Camacho –then Beauzec singled to load the bases. Ortiz scored on a wild pitch, then Erik Kelly walked to re-load the sacks.
Trevor Darby, who finished with three RBI, drove in two with a go-ahead single to make it 5-4. Moments later, Ricardo Partida, who also collected three RBI, slugged a 2-run double for a 7-4 advantage.

Later, No. 9 batter J.D. Laverdiere walked, then Ortiz went deep on his second at-bat of the inning.

Mount Miguel has now won seven of its last eight games.