Westview's Stowell dominates Hillers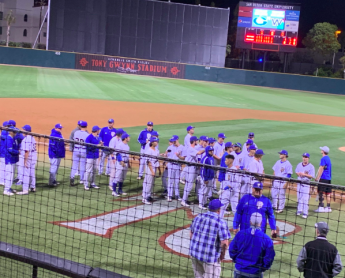 Grossmont Foothillers following the championship game at Tony Gwynn Stadium.
2019 EAST COUNTY PREP BASEBALL
SAN DIEGO CIF DIVISION I CHAMPIONSHIP
WESTVIEW 1, GROSSMONT 0 
EastCountySports.com staff report
SAN DIEGO – The Grossmont Foothillers were seemingly mesmerized by the pitching of Westview senior pitcher Kevin Stowell, who dealt a two-hit shutout, striking out 13, leading the Wolverines to the San Diego CIF Division I championship with a 1-0 win at Tony Gwynn Stadium on Saturday night.
Grossmont had won the last two section DI title games.
The Foothillers could muster very little against Stowell.
Senior Zak Farris led off the bottom of the first inning with an infield single, but Stowell struck out the next three Grossmont hitters.
"This season for us was something different," Farris said. "We made a lot of changes to what we usually do this year and had to find who we were as a team. We had a special group of people this year with lots of different personalities and we brought that all together to form our team. We had a great run this year, and our underclassmen will learn from this loss.
The Foothillers put a pair aboard in the last of the second on a one-out walk from Jamie Odom and a two-out single by Smith, but Stowell recorded another K to end the Hillers' best threat.
Sophomore Jaden Wilcox pitched terrific in the biggest of games, going 6 1/3 innings while allowing a run and striking out eight.
"It was a great season we played our hearts out the whole season and I was just glad I could be apart of it," Wilcox said. "I felt I did great. I just missed one spot and the kid hit a blooper over first to get their only run which would eventually win the game. But I was very impressed with our season and the way we turned it around."
Westview, the No. 11 seed entering the tournament, scored on a two-out bloop single down the line in shallow right field, scoring a baserunner from second.
Freshman Jake Romero got two outs on three pitches in the top of the seventh for the Foothillers.
Grossmont would fail to get another baserunner aboard.
"It was a complete pitchers duel tonight," Farris said. "I can't wait to see what our two younger pitchers, Jaden and Jake, can become next year and the years to come if they keep working."
It was the third meeting of the season between the two teams, splitting a pair of regular season encounters.