Tigers dash past Matadors for title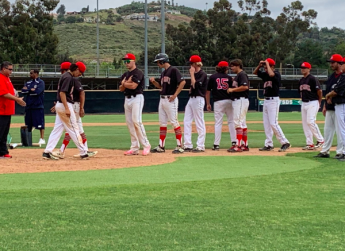 Mount Miguel receives its patches for their runner-up finish in the Division V championship.
2019 EAST COUNTY PREP BASEBALL
SAN DIEGO CIF DIVISION V CHAMPIONSHIP
MORSE 7, MOUNT MIGUEL 5
East County Sports staff report

POWAY (5-26-2019) – Neither Mount Miguel or Morse had even been to a San Diego Section CIF championship game much less won a county baseball title.
However, Tthe schools were paired with each other Saturday (May 25) for the Division V championship as the top remaining teams in the tournament.
The battle between neighborhood rivals went to Morse, which tallied five times in the fifth innings to rally past the Matadors, 7-5, at Poway High.

It was the first championship game appearance for both ballclubs, with Morse earning its first-ever title.
"We just didn't hit," Mount Miguel head coach Frank Coit said."Five hits are not going to win many ballgames. We did squeeze five runs out of those hits, but that was all we could do. Morse earned the win. Coach (Dallas) Booker did a great job this year, he and his kids are deserving champions."

The Tigers (20-11 overall) parlayed five singles, a walk, and a go-ahead sacrifice fly by senior right fielder Chris Westover in the
fifth to overcome a 4-2 deficit.

Three consecutive singles — by Isaiah Rodriguez, Alonzo Durazo and Kevin Romero — loaded the bases.

An out later, Josh Dacurro sent a line single to center, with two runs scoring to tie the contest at 4-all.

Webster followed with his sacrifice fly, even though the ball was dropped for an error, as Romero scored the go-ahead run.

A walk and a fielder's choice garnered an additional run. Morse had 13 hits.

Mount Miguel (14-19) showed heart with a 7th- inning rally, bringing the potential game-tying run to the plate.

Nico Camacho opened with a lead triple to center field, immediately scoring his second run on an ensuing sacrifice fly to left by
Cameron Beauzec.

For Beauzec, he batted 1-for-2 to cap his postseason performance at the plate to .714 (10-for-14).

Erik Kelly followed by getting hit by a pitch to bring the potential tying run to the plate, but Tigers pitcher Michael Chapman escaped on a pop out and a grounder too Durazo to gain the complete-game, 5-hit victory.

For the Matadors, Camacho and Austin Ortiz both scored twice, while Beauzec and Ricardo Partida both drove in a pair of runs.

Mount Miguel led, 3-2, through the first inning on a Beauzec RBI double, then a fielder's choice grounder by Partida which saw
a second run scored on an error.

The Matadors lead went to 4-2 on a 5th-inning RBI single by Kelly. Ortiz started the frame by getting struck by a pitch, moving into scoring position on a Camacho sacrifice bunt.

However, the Tigers answered with their big inning in the home-half of the frame.

For Morse, Durazo batted 3-for-4 and scored twice, cleanup hitter Kevin Romero went 4-for-4 and drove in a run, while Josh Dacurro posted two RBI.

It was the Tigers' first 20-win season this century.

Mount Miguel was making its first playoff appearance since 2014, when they established a school-record with 20 victories, falling the run short of the D-3 title game.
"We had a great run, unprecedented for Mount Miguel," Coit said. "Very proud of our kids and what they accomplished this year. They went further than any other team in school history (the school was built in 1957)."

The Matadors also capped a strong playoff run by Grossmont Valley League ballclubs. League titlist Valhalla captured the CIF Division III title, while West Hills equaled their best postseason run ever after falling just one round short of reaching the D-IV title game.
"Hopefully what we built this year will carry over to next year and many years after," Coit added. "Winning is a culture that has to be nurtured. We raised the bar of expectations at Mount Miguel, and I am very pleased about that.
"Returners Thomas Ringer, Erik Kelly, JoJo Castillo, and Mike Camacho, will be at the core of next year's team… a great start."