'19 Stars: Better than 2018?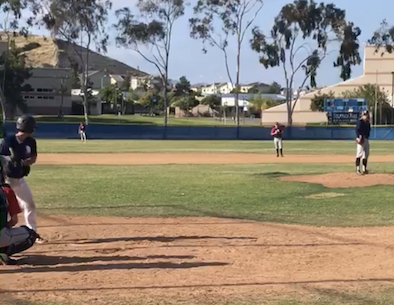 Stars and Mustangs compete on Monday at West Hills High.
2019 SAN DIEGO STARS BASEBALL
Dominant pitching performances
could key another World Series run
By Nick Pellegrino
East County Sports staff writer
       
SANTEE (6-3-2019) — Only one day into the 2019 summer collegiate baseball season, the San Diego Stars seem poised to make yet another challenge for a National Baseball Congress World Series appearance after wiping-out the San Diego Mustangs in Sunday's (June 2) Western Baseball Association doubleheader.
The Mustangs are affiliated with the San Diego Mavericks.
After finishing fifth at the NBCWS nationals last summer (falling to eventual national champion Santa Barbara Foresters), this summer's edition of the Stars could be even better.
The Stars tackled the Mustangs, 12-0 in the opener, then took a forfeit win when the opponent only had seven available players, so a composite squad of remaining Mavs and Stars reserves participated in a 7-inning exhibition to get work in and receive a critical evaluation from Stars owner/manager Mickey Deutschman.
"Every available player participated in the first game except one — you always need an emergency catcher," said Mickey D. "Although we're always looking for talent since many players can't be with us all summer, the ones we have now were outstanding — especially the pitchers.
In Game One, Noah Quintana, Chase Martinez and Shane Coleman combined on a 6-hit shutout.
Quintana, a West Hills High product, struck out three over fine solid innings. Martinez (San Diego City College) was touched for just one hit and striking out three over two innings, then Coleman (El Capitan '12) capped the ballgame with a pair of no-hit innings, striking out four.
Meanwhile, the Stars offense saw Dallas Seidel (Santana '09), the reigning WBA home run champion, pump out a 2-run blast by pulling the ball out to the West Hills High parking lot in right field.
The games were moved to West Hills, although the Mustangs were the home team but its new home venue at Mesa College was unavailable.
The Game Two starting pitcher was Bailey Roberson (El Capitan '17/Grossmont College), who fired three shutout innings. Among the two hits Roberson allowed, he picked off one baserunner at first base, while the other was erased on a double play in facing the minimum nine batters.
The ballclubs meet again Wednesday at 5 p.m. at Stars Field at Barona.