Stars continue domination of Mavs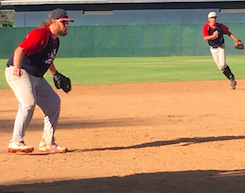 2019 SAN DIEGO STARS BASEBALL

By Nick Pellegrino
East County Sports staff writer

KEARNY MESA (6-18-2019) – Piecing together a winning streak against an opponent is one thing, but for the San Diego Stars, they're taking it to an extreme.

On Tuesday (June 17), the Stars whipped the San Diego Mavericks for the 16th straight time, this time taking an easy 12-5 decision in Western Baseball Association action at Mesa College.

Stars third baseman Joey Krug drove in four runs, including three on a home run in the fourth inning, when the Stars tallied eight times to again take control over their league rival.
The Mavs took the teams' first meeting in 2016, but then the Stars captured the next three meetings by a composite count of 30-12.

In 2017, the Stars swept all four games, then took all seven last summer to extend the winning streak to 14 games.

And with two more victories this summer, the Stars have downed the Mavs in 16 straight, outscoring their long-time WBA foes by 95 runs.

In addition, since 2011, the Stars lead the series, 36-8-1 (.811).

In this go-round, the Mavericks clung to an early3-1 advantage before the Stars pounded out four extra-base hits.

Krug started the rally be getting hit by a pitch. He gained his revenge later in the frame with a 3-run shot to left-center field.

Between Krug's at-bats, Brady Joslyn  slugged an RBI double in his Stars debut, scoring when Aidan Rasmussen followed with a triple.

In the home-half of the inning, Rasmussen, the shortstop, started a nice double play, as Joslyn at second base completed the pivot with a strong throw to Tristan Salinas at first base.

Meanwhile, Stars pitcher Ryan Skillman overcame a slow start with three shutout innings to cap his 5-inning stint for the victory. Skillman struck out three.

From the bullpen, Bailey Lewis struck out two in his one inning in a solid Stars debut.

On offense, Joslyn collected three hits, while Dallas Seidel, Ryan Major and Salinas added two hits each.

The Stars (11-1 overall, 6-0 WBA) return to action Thursday at 4:30 p.m., traveling to Poway High to beat the San Diego Crush.