Former Knight Hands lands in Brooklyn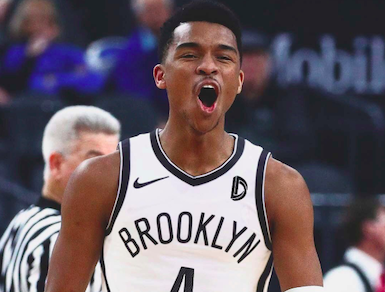 Jaylen Hands
View this post on Instagram
---
2019 EAST COUNTY ALUMNI
EastCountySports.com staff report
BROOKLYN, N.Y. – Brooklyn Nets co-owner Joe Tsai, a more-than-part-time resident of La Jolla, saw former Foothills Christian High great Jaylen Hands play against the Bishop's Knights on Valentine's Day back in 2017.
That might have been the night the co-founder of e-commerce giant Alibaba fell in love with the point guard's skills after Hands scored 20 points, including 10-of-11 from the free throw line, grabbed eight rebounds, handed out six assists and recorded five steals in a lopsided win over the school where Tsai's children attended.
Last year, Tsai stunned Hands and his UCLA Bruins teammates by singling him out of the group, telling the traveling ball club that he has already seen the potential of the sure future NBA player.
Brooklyn Nets co-owner @joetsai1999 , who resides in La Jolla, had been a fan of @JHANDS08 for a couple years before the team acquired the former @FCHSBBALL star in a trade with the Clippers on draft night after being selected 56th overall… https://t.co/7NpPmbP0FN

— Ramon Scott (@RamonScottPoker) June 21, 2019
On Thursday, using the 56th pick in the 2019 NBA Draft acquired earlier in the day from the Los Angeles Clippers, the Nets selected the 6-foot-3 sophomore and Hands couldn't have been more thrilled if his Instagram post was any indication.
Hands was mostly a point guard but played shooting guard as well for the Bruins last season.
The 20-year-old from San Diego averaged 14.2 points, 6.1 assists, and 3.7 rebounds, shooting 37.3 percent from three-point range.
No question Hands has athleticism and leadership.
The multi-time slam-dunk champion might be best known nationally, however, for his support of a teammate during a regular season game at Oregon in January that went viral.
UCLA's Jaylen Hands reminds Moses Brown to keep his head up. Real leaders bring out the best — not the worst — in those around them.pic.twitter.com/O4zkgCdK8V

— Keith Boykin (@keithboykin) January 13, 2019
Under head coach Brad Leaf at Foothills Christian, Hands averaged 29.2 points and eight rebounds in his only year with the Knights before heading to Westwood. He also averaged more than five assists and nearly three steals for a club that went 24-7 playing one of the toughest schedules in the state.
His success during his senior year earned him McDonald's All-American status.
Hands won a San Diego Section division championship at Mater Dei High in 2014, but following his sophomore year with the Crusaders, was originally denied a transfer to Foothills by the section office.
That result landed him at Balboa City, in downtown, a non-section member that played a nationally-based prep school schedule, where for a short time, he was teammates with Deandre Ayton, now with the Phoenix Suns.
Hands, who will have to improve on his defense and shot selection in the pro game, according to most analysts, joins another San Diegan on the Nets' roster, Jared Dudley.
The irony here is that Dudley, now 33, led Horizon to back-to-back state titles under head coach Zack Jones, who also founded the Balboa program.
Let's go!!!!!!!!!! San Diego's own @JHANDS08 !!!!! Welcome to Brooklyn my brotha!!!!! Time to get to work!!!!!! https://t.co/fXjafYydgQ

— Jared Dudley (@JaredDudley619) June 21, 2019
Hands now heads to Long Island as the second Knights' player to be selected in the NBA Draft in the last three years, following the Indiana Pacers' first-round selection (18th overall) in 2017 of another former Bruin, T.J. Leaf, the son of the Foothills Christian coach.