Sisk impressive in U.S. Amateur run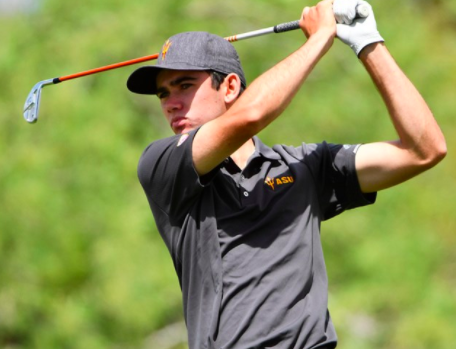 2020 EAST COUNTY COLLEGE STANDOUTS
EastCountySports.com
BANDON DUNES, Ore. – Former Valhalla Norseman CAMERON SISK had one-hundredth of one percent chance to win his U.S. Amateur quarterfinal match when he fell behind by four holes just over midway through the round against SMU's Ollie Osborne Friday afternoon at Bandon Dunes, Ore.
Four holes later, however, Sisk defied the nearly improbable odds to get to all square with his opponent heading to No. 15.
But Sisk just missed a key putt and his opponent capitalized with a birdie on 16 to end another major tournament championship run by the now-Arizona State standout, falling 2-and-1.
Sisk was the No. 62 seed in the field, but is currently ranked 39th in the World Amateur Golf Rankings. He has also produced some big moments for the Arizona State Sun Devils in just two seasons of collegiate golf.
Sisk, a junior with a 3.65 GPA at ASU, was a third-team All-American in 2019-20. He is a craftsman with his game that is steady for match play, while many in today's college game are bombs away.
Sisk already has other impressive major match play top finishes, reaching the quarterfinals of the British Amateur in 2019 and advancing to the semifinals of the U.S. Junior Amateur in 2018.
Sisk defeated Davis Lamb 5-and-3 afternoon. He fell behind after one hole but won three straight holes to go 2-up after six. Back-to-back wins by Lamb at No. 8 and 9 had it all-square after 10, but Sisk then won the next five holes.
In the Round of 32, Sisk bested UNLV's Jack Trent, 3-and-2, to advance. He for the second straight match fell behind after one hole and then bounced back to go all-square.
Unlike Wednesday when he took the lead quickly, he fell behind again on the third hole, only to tie it and then fall behind after six holes.
The ninth hole seemed to start the positive energy.
Sisk eagled the 575-yarder to tie the match, then birdied the 432-yard par-4 No. 11.
Birdies followed at both No. 13 and No. 14 to go 3-up before a bogey allowed it to get back to 2-up with three holes left. He put any doubts to rest with a birdie on 16 to clinch it.
He got in the U.S. Amateur Round of 64 with a birdie on the first playoff hole early Wednesday morning and then used that momentum in the afternoon en route to a 5-and-4 win over Ben Shipp in the Round of 64, as he fell behind after one hole as Shipp birdied, but Sisk birdied three of the next four holes.
Sisk then won holes 12, 13, and 14 to shut the door. He was one of just three players to win by at least 4-up in the 32 matches played on Wednesday.
Sisk earned one of the final three spots in the match-play draw in an 18-for-3 playoff, as he birdied the par-4 10th hole.