Familiar faces, places unite Pack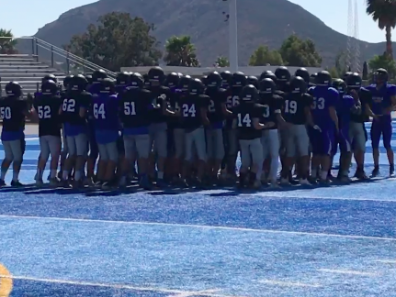 West Hills during a preseason workout.
2019 EAST COUNTY PREP FOOTBALL
WEST HILLS WOLF PACK PREVIEW
Last season: 8-3 (Lost to Imperial in SDSCIF Division III playoffs), 3-1 Grossmont Valley League (2nd)
Head coach: CASEY ASH (8th year, 41-35)
2018: The Wolf Pack had a pair of four-game winning streaks, ultimately falling in the league championship-deciding game on the road at favored Monte Vista. The other regular-season loss came at home in the first-ever TONY BURNER Trophy game against El Capitan.
OUTLOOK: West Hills returns one of the best players in the East County in RB/LB JAKE MAHEU, who figures to be the anchor on both sides of the ball the season. The Wolf Pack will have to replace a very successful quarterback but will be helped by veteran receiver KOLE KLINGERMAN, who had 22 catches and four touchdowns last season. All-purpose player STEVE CRISTINI is sure to carry and catch the ball and is a top return man, accounting for nearly 500 yards last season on offense and special teams. Two-way lineman AUSTIN RUIZ-CASTANEDA had three sacks last season, as did JOSH ALAGATA. Senior two-way player KIP KLINGERMAN leads the secondary.
SCHEDULE: The Wolf Pack can still contend for the Grossmont Valley League title, especially considering they will host the Monarchs this season in the finale. However, West Hills will face pass-happy teams Mount Miguel and Santana on the road, so their experience in the defensive backfield will be a big plus. In addition to playing admitted rival El Capitan in Lakeside, the Pack will also host surely-improved Grossmont Conference foe Valhalla again this season, and four other opponents from last year's schedule, which they defeated.