Braves' experience, skill lifts optimism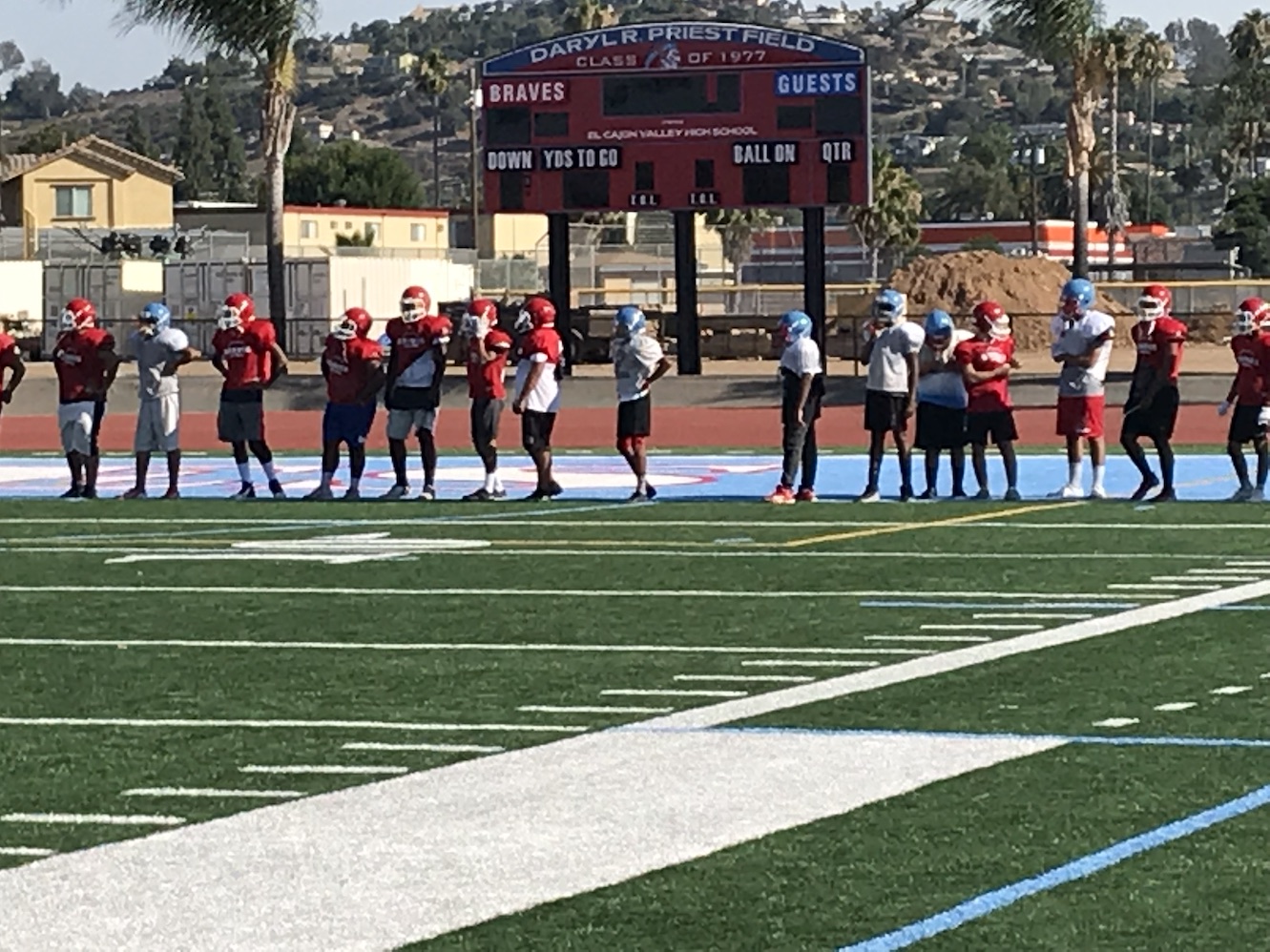 El Cajon Valley during a preseason workout at Priest Field.
2019 EAST COUNTY PREP FOOTBALL
EL CAJON VALLEY BRAVES PREVIEW
Head coach: NICK OSBORN (2nd year)
2018: The Braves' youth was on display last season and they'll have two years to continue to make big plays. Despite a winless campaign, El Cajon Valley played up, meaning their schedule was rather difficult for a team in the section's Division V. A pair of young players – CLARENCE JOHNSON and DAMARIUS HYDE – still proved to be a breakaway threat to find the end zone in various ways and can match up with any tandem of skill players in the East County. The team returns most of its key personnel and continue to grow under the former San Diego State Aztec, NICK OSBORN.
OUTLOOK: The schedule will provide more opportunities for success this season. The team's desire reflects the leadership of senior linebacker/running back MARIO JACOBS. The senior is a school president, elite student and possesses the Braves' instilled work ethic. The team also possesses a cohesive offensive line, led by staunch senior KE'VON WHITE. A multi-faceted player, Johnson averaged 22.3 yards per catch last season, including a pair of TD receptions, while picking off three passes on defense. Meanwhile, Hyde rushed for over 300 yards and three TDs, while making 27 tackles on defense, including a pair of sacks. Junior quarterback JOE MALONE is firmly the team's starter, while senior BRANDON BLACKBURN is a two-way performer at safety and receiver.
SCHEDULE: Five of the six non-league games are fellow Division V foes and should be competitive. El Cajon Valley will need to win a few of these games to ensure a postseason berth. The Braves may be considered favorites in their home game against the Hoover Cardinals in Week 2. The Grossmont Valley League schedule is, of course, daunting, but ensures a weighted advantage in the team's strength of schedule over some of their other D5 opponents. Win one of those in addition to any additional success and the Braves can return to the playoffs after a year hiatus.