Odin's fortunes turn with Baker's burn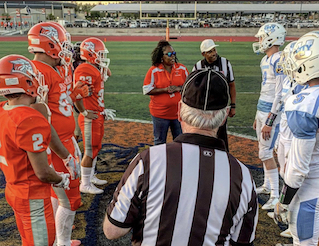 2019 EAST COUNTY PREP FOOTBALL
VALHALLA 35, UNIVERSITY CITY 21
By Ramon Scott
EastCountySports.com
EL CAJON – The 2019 Valhalla Norsemen are surely no one-hit-wonders.
In their impressive 35-21 winning performance over visiting University City on Friday night, the Norse looked far from the role of underdogs in the season opener.
Senior Kegan Baker scored five touchdowns, including a 71-yard scoring run, picking right back up where he left off last season behind a junior-heavy offensive line.
Gunnar Gray threw a 16-yard TD for UC to Skip Waltower, the former Grossmont Foothiller, on the first series and the Centurions looked to be in the same form as last season.
And so did Valhalla, it appeared.
But Baker had a 23-yard TD run to tie the game in the second quarter.
And then he had 2-yard run, which made it 14-7. The score was set up by a fumble recovery by Eddie Villavincencio.
Valhalla, which didn't record a win last season, led 21-7 at halftime, as Baker had piled up over 100 yards.
Baker's fourth score of the night was a ripper. He busted through the would-be tacklers then just tossed aside a defender near the end of his jaunt, looking like a man playing with a purpose.
He added a 2-yard score late which make the final outcome.
Gray and Waltower, who turned in a heroic effort after being banged up in the first half, combined for a pair of margin-closing scores in the second half. The second of which closed the Norse led to 27-20. The duo connected for three scores on the night.
"Give all the credit to my O-line for blocking downfield," Baker said. "It feels amazing. Last year was humbling. We're back this year."
And after one season of 10 games without tasting victory, Valhalla coach Mike Kastan said got a sweet taste of a water bucket shower as the game ended.
"This is for the kids," Kastan said. "They've worked hard since spring, they wanted it more than I did probably. This is the first one, as I told the team, 'we've got more coming.'"
Baker, meanwhile, turned in another monster performance and currently has to be considered among the top backs in the entire county. Junior offensive lineman Allen Kalasho leads an up-and-coming front.
"Kegan ran as hard as I've seen a player run," Kastan added. "And we've got four juniors on the offensive line. I don't think (quarterback) Luke Pillsbury missed a pass. He didn't throw many but he didn't miss, either."