RedHawks fall; Knights roll to 2-0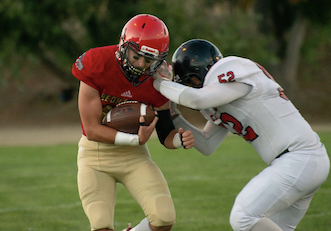 Mountain Empire carries against Castle Park on Friday.
2019 EAST COUNTY PREP FOOTBALL
CASTLE PARK 41, MOUNTAIN EMPIRE REDHAWKS 21
EastCountySports.com staff report
PINE VALLEY – The Castle Park Trojans outscored Mountain Empire, 35-7, in the first half en route to a 41-21 win here last Friday.
The RedHawks scored the first touchdown of the game but an interception midway through the first quarter by the Trojans resulted in a touchdown drive to tie the game two minutes later.
Following a pung, the Trojans scored on a touchdown run in the final minute of the opening quarter.
Another interception by Castle Park turned into another scoring drive just one minute into the second quarter, giving the Trojans a 21-7 lead.
Following a punt by the RedHawks, Castle Park went up 28-7 on a touchdown with seven minutes left before halftime.
The Trojans picked off Empire a third time with three minutes to go in the first half and one minute later, turned the miscue into another score for the halftime advantage.
Mountain Empire forced a fumble and recovered it just one minute into the second half and scored on a touchdown pass to MARCUS SMITH a minute later.
Smith had over 100 yards receiving and two touchdowns.
DAKOTA DANIELS also amassed over 100 yards receiving and scored a touchdown for MEHS.
The RedHawks' final score came with seven minutes left in the game on a touchdown pass, which resulted in the final margin.
---
2019 EAST COUNTY PREP FOOTBALL
FOOTHILLS CHRISTIAN 44, NEW DESIGNS – UNIVERSITY PARK 14
EastCountySports.com staff report
LA MESA – Foothills Christian's Tony Mroz passed for 209 yards and three touchdowns and also rushed for a touchdown at the defending section 8-man champs defeated New Designs – University Park, of Los Angeles (0-1), at Seau Field on Friday.
Blake McIntyre caught passes for 147 yards and a TD for FCHS (2-0).
The Knights built a 14-0 lead in the first quarter.
An early second-quarter score made it 22-0.
Foothills Christian will host Rock Academy in an Ocean League opener this Friday at Seau Field.
Rock Academy will be playing in its season opener.