Griffins return to home turf for 2019
Updated: September 6, 2019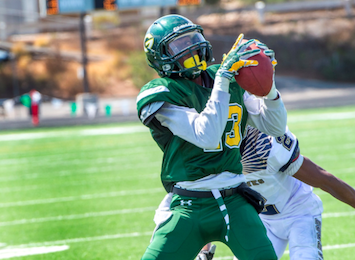 Grossmont College wide receiver Mylik Steen in 2017.
2019 COMMUNITY COLLEGE FOOTBALL
GROSSMONT GRIFFINS PREVIEW
Last season: 1-9
HEAD COACH: Mike Jordan (14th season).
2018: The Griffins earned their only win in their eighth game of the season, beating Orange Coast, 45-27. Freshman Jarius Burnette was the star on offense with over 800 yards and eight touchdowns but it was sophomore Jay Williams who caught the attention of over a dozen Division I programs with his play at left tackle. Williams, one of the most highly sought after Griffins ever, eventually choose Florida State. Freshman Derek Sutherland, from Twentynine Palms, finished with six interceptions.
OFFENSE: Expected starting quarterback Brady Abt injured his ACL just two weeks before the season was to begin. However, the Griffins may have a capable replacement in Assumption College (Mass.) bounce-back Sharif Harris-Legree, who was the MVP of the Empire Challenge, an All-Star Game between players from New York and Long Island, back in 2016 with a game-record 371 yards. He also led Grand Street Campus to a PSAL championship. Burnette gives the team a likely 1,000-yard rusher, while wide receiver Mylik Steen returns to the Griffins following a 2017 season in which he caught 48 passes for 710 yards ad three touchdowns. Guys like Williams only come around so often, but this year's line is aided by sophomore Mose Kaeuati and Mason Tileia.
DEFENSE: Linebacker Anthony Sola had a team-high 56 tackles and eight sacks last season as a freshman, while Blake Jarrell returns after making 49 stops in 2018. Several freshmen who were local prep standouts look to step in right away, including linebacker Ree Ree Tarrant-Patane, linemen Mathew Avi'i, Rock Gonzalez and Canady Monray, and defensive backs Jayden Tauanuu and Chance Lovato.
SCHEDULE: The Griffins have a newly-installed turf field, although the team will have to play its first game on Saturday against visiting Long Beach at Grossmont High. Still, the new digs should be ready during the season. The Griffins have scheduled the first home game on the new surface on Sept. 21 against Mt. San Jacinto, followed by a game against Mesa a week later. The Griffs host Riverside in the conference opener on Oct. 19 and Saddleback on Nov. 9. Grossmont plays county rivals Palomar (Oct. 5) and Southwestern (Oct. 26) on the road.