Logistics keep Pack from timely finish
Updated: September 7, 2019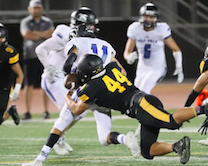 West Hills' Brendan Greene attempts to hold on while being tackled on Friday night.
2019 EAST COUNTY PREP FOOTBALL
SANTA FE 7, WEST HILLS 6
EastCountySports.com staff report
WHITTIER – The West Hills Wolf Pack may have encountered some difficulties in getting to Friday night's game against Santa Fe High School in Whittier before the scheduled kickoff time.
Seems like a long way to travel for a contest that produced just 13 points, as the Chiefs scored a touchdown in the first half and made it stand after West Hills got a second-half score. A failed PAT was the difference in a 7-6 loss at Whitter High School.
Senior Kole Klingerman caught seven passes for 77 yards and the touchdown.
Klingerman seemed to have a whole side of defenders bite on his hitch, as he escaped behind the duped defenders for a wide-open throw from senior quarterback Gerardo Hernandez.
Klingerman also had a terrific interception, wrestling a 50-50 ball in the end zone away from the intended receiver on a deep fade in the right corner, causing a touchback.
Hernandez was 7-of-9 passing and had 69 yards of total offense. Sophomore quarterback Braden Oberg was 3-of-4 passing, as the Wolf Pack was efficient, if not threatful, through the air.
Senior Jake Maheu had a tackle for loss for West Hills.
Maheu rushed for 51 yards while Steven Cristini rushed for 45 yards for the Pack.
West Hills will be in a crucial non-league situation when it hosts Chula Vista next Friday.