Braves complete 89-point turnaround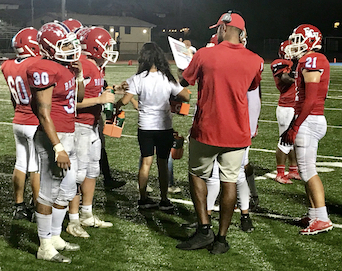 El Cajon Valley during a time out in the second half. / photo by Dave Dickens
2019 EAST COUNTY PREP FOOTBALL
EL CAJON VALLEY 20, CORONADO 7
By Dave Dickens
EastCountySports.com
EL CAJON (9-6-2019) – As for most of the East County this evening, several blowouts and unexpected losses were recorded this evening. However, the 2019 El Cajon Valley Braves were dubbed the Game of the Week.
You have to believe that if you build the team, they will come, and they did.
For the second week in a row, the Brave faithful came out in herds to support their squad, even with considering the Braves' chances of defeating the visiting Islanders, unlikely.
The young gunslinger, quarterback JOE MALONE, not only once again made some key defensive stops, Malone led some impressive offensive drives, as well, including a 70-yard bomb to his leading receiver and punter, CLARENCE JOHNSON.
The tandem has been quite impressive on this young season.
Johnson also had a blocked punt that led to a fumble recovery, and Malone added a sack on the defensive side, as well.
However, once again, last week's co-offensive player of the week, DAMARIUS HYDE, continued to become an unstoppable force on the ground game, carrying the rock 21 times for only 16 yards, however, scored yet another pair of touchdowns.
The Braves had a 13-7 lead at the halfway point.
Hyde would punch in the last six with a scamper into the end zone late in the third quarter, as the point after was successful, leaving the Braves up, 20-7, for the remainder.
Once again the home stands were pounding their feet to the rhythm of the war drums of yet another win.
El Cajon Valley did everything correctly, with the exception of a few unnecessary penalties, yet hats off to the coaching staff with their clock management and for head coach Nick Osborn to continue his belief in team effort on and off the field, along with the players buying in and believing in the system.
"This is your field, that you have worked hard on, day in and day out for eight months," said Osborn as he passed around the cell phone with assistant coach Clifton Thomas on Facetime congratulating his fine players from out of town. "You deserved this win. We remember last year a lot of tears being shed after a 76-0 loss at their house, but we became better because of it. "
El Cajon Valley(3-0) Will now face the Clairemont Chieftains (2-1) at Clairemont next Friday.
Clairemont is also coming off a win over Maranatha Christian, 21-16. These Braves are for real and headed to a stadium near you.