Sultans' stars cast large shadow
Updated: September 8, 2019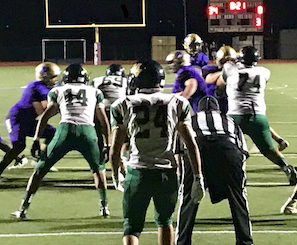 Santana on offense against Mar Vista on Friday night. / photo by Dave Dickens
2019 EAST COUNTY PREP FOOTBALL
SANTANA 41, MAR VISTA 0
By Jim Lindgren
Special to EastCountySports.com
SANTEE – It didn't take long for the faithful at Santana to realize their football team is pretty good this year.
And maybe … just maybe … dare, they dream?
Super large banner posters of star players are even popping up on light poles around campus.
Moments into their home opener on Friday, the Sultans took command and never relinquished in a 41-0 rout of Mar Vista to give Santana its first 3-0 start since the 2011 team began 8-0.
Nathan Temple tossed three touchdown passes in the first quarter and had five before halftime as the Sultans soared to a 34-0 lead and a running clock was implemented about halfway through the second quarter.
"Normally this is a really good game between Mar Vista and us," Santana coach Tim Estes said. "This one got out of hand early, and we went to a running clock early.
"They were really thin on numbers. It feels good to be 3-0. Obviously, it's better than the alternative. But they were not as competitive as they have been."
Or maybe … just maybe … dare, they dream?
Santana lost to Mar Vista, 27-13, in the regular season last year, then beat the Mariners in the quarterfinals, 23-6, before losing a semifinal contest against eventual state champion San Diego, 41-20.
Temple missed the first game against Mar Vista last year (and six others) with a broken collarbone. He returned in time for the playoffs, and his presence, leadership and abilities were noticeable.
On Friday, he was close to perfect, completing 12-of-15 passes for 195 yards and five touchdowns without an interception – all in the first half, of course.
On the first possession, Temple drilled Randy Smith on a quick slant pattern at the goal line for an 8-yard TD. Smith, too, ended his night early with three catches for 58 yards and two touchdowns. Nathan Hughes would get the next two scores, and his receiving line went 2-57-2.
Early in the second quarter from the 8-yard line, Temple rolled to his right and lofted a perfect soft toss to Donnie Kelly in the back of the end zone for a 27-0 lead.
Smith scored again, and Nick Brase had a 6-yard touchdown run in the third quarter to complete the scoring. Dean Landers added three receptions for 49 yards and also had a 37-yard punt return to set up a touchdown.
The run game was short but effective as both Brooks Moutaw and Dawud Saddler carried three times for 26 yards.
"The skill guys are starting to click really well," Estes said. "They have good chemistry. Nathan is really playing well, and we have a lot of people he can throw the ball to. The offensive line is really playing well."
The defense allowed only 153 yards – 87 passing and 66 rushing – and now has six quarters without allowing a point. Standouts there included Cameron LaRiccia, Michael Richter, Luke Simanek and Jared Forster.
Santana looks to extend its winning streak next Friday with a home game against Sweetwater (1-2). The Sultans then travel to Montgomery (3-0) in Chula Vista and play host to Vincent Memorial (3-0) before the start of play in the Grossmont Valley League.