EAST COUNTY FEARLESS FORECASTER – WEEK FOUR
Updated: September 13, 2019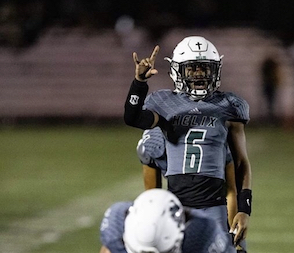 Helix senior quarterback KAMRYN BROWN
2019 EAST COUNTY PREP FOOTBALL
EAST COUNTY FEARLESS FORECASTER – WEEK FOUR
By Ramon Scott
EastCountySports.com
LA MESA – Before his son D.J. was born, Jerry Ralph was the head coach of the Santana Sultans for three seasons. In 1999, the Sultans went 11-1 in the coach's third and final season at Santana, a building project which resulted in the team winning a Grossmont North League championship.
Coach Ralph, who certainly is a member of the Ron Hamamoto coaching tree, went on to an extremely successful career guiding local varsity teams, becoming the first to ever be a head coach at five different county schools, amassing 129 career wins.
In that '99 season with the Sultans, Ralph mentored a quarterback by the name of D.J. Busch, a record-setter who landed a scholarship to play at Colorado State.
A couple of years later, Ralph started his lifelong grooming of another quarterback named D.J., one who has stepped into the forefront of all of the county's talent this season.
D.J. Ralph, a senior, leads the No. 8-ranked team in the entire country – the 3-0 Cathedral Catholic Dons – into Benton Hart Stadium on Friday evening to take on the locally third-ranked Helix Highlanders (1-1).
Last Friday, the Dons beat nationally sixth-ranked Centennial, of Corona, as D.J. rushed for three touchdowns, including the game-winner with 46 seconds to play, and passed for two more in the most clutch game of his prep career.
Surrounded by a bevy of talent at Cathedral, including an elite offensive line, D.J. has been more consistent, if not spectacular. Still, the QB hasn't necessarily received offers from major colleges. Yet.
The Dons are where very few San Diego County teams have ever been, in the top ten of the nation's high school polls, and could finish this season in the discussion as one of the best clubs ever in the section.
The Helix Highlanders are a team known for taking on all comers. As an Open Division contender since the classification's inception, the Scotties schedule teams like the Dons, second-ranked St. Augustine and regionally-ranked teams, such as Oaks Christian and Cajon.
Helix had a bye in Week 3 following a loss two weeks ago to Utah state-ranked Herriman, 26-19, in overtime. Despite the loss, the Scotties didn't fall in the local media poll, still garnering the third position.
Highlander running back Elelyon Noa set the school rushing record in that game, besting the career mark of former NFL star Reggie Bush.
Noa is so good and makes such an impact, that even members of the Dons' program have admitted that the senior is one player that gives the team major concerns.
According to computer rankings, the Highlanders will likely be an underdog in their next three games, possibly needing an upset of the Dons or Saints to avoid being eliminated early in the Open Division playoff chase.
Despite the scale obviously tipping in the Dons' favor this time, the familiarity of this championship rivalry gives Helix an honest chance… CATHEDRAL CATHOLIC, 31-19.
No. 7 STEELE CANYON (2-0) vs. BONITA VISTA (2-1) (at Southwestern College) – Coming off their bye week, the Cougars won at Madison two weeks ago, 19-14, after losing a pair of previous meetings to the Warhawks by a combined 89-17 in 2016-17.
Senior Antoine Walker had a 24-yard touchdown reception, an interception, and a blocked field goal in the win for Steele, while teammate David Martinez booted a pair of field goals.
The Barons, led by receiver Ron Vann, come in with consecutive wins over San Ysidro (57-0) and Sweetwater (35-14) but the Cougars are big favorites here.
The Cougars lead the all-time series 3-0, including 47-7 last season… STEELE CANYON, 28-14.
OLYMPIAN (1-2) at No. 10 GROSSMONT (2-0) – When last seen two weeks ago, the Foothillers were racking up 817 yards of total offense against Mater Dei Catholic.
Senior quarterback Jaime Odom passed for 437 yards and five touchdowns and senior receiver Brody Schicker caught eight passes for 136 yards and three of the scores. Running back Jahmal Nevels added a pair of scoring runs.
Chris Alba and Sanderson combined for 11 tackles on defense in the win.
The Foothillers, who are coming off a bye, are expected to win this one but consider that the Eagles are coming off a 10-7 loss to No. 7 Torrey Pines.
Grossmont leads the series, 2-0, including a 37-21 home win in 2017… GROSSMONT, 35-21. 
WESTVIEW (1-2) at No. 14 GRANITE HILLS (2-1) – The Eagles lost a tough test at Madison last Friday, 39-29, despite four touchdown passes by junior quarterback Justus McComb.
The Warhawks returned a pair of first-half interceptions for touchdowns, however.
Granite's Matthew Keely recorded another interception of the season, while the Eagles' defense had three sacks.
Eagle senior receiver James Johnson had six receptions for 94 yards and a pair of scores.
Westview failed to score last week in a 6-0 home loss to undefeated San Pasqual, so how do the Wolverines plan to find the end zone here?
The Eagles lead the series, 2-1, including 17-14 at Westview last season… GRANITE HILLS, 27-13.
CHRISTIAN (1-2) at MONTE VISTA (1-2) – These two teams went to overtime last season with the Patriots winning by one point after stopping a two-point conversion attempt. Considering the current start by both teams, another tight finish is expected.
The Monarchs led by a couple of touchdowns but stumbled late at Patrick Henry, 39-36, despite 147 yards and two touchdowns from senior running back Isaiah Gardner last Friday in San Carlos.
With his next victory, Monte Vista head coach Ron Hamamoto would move into a tie for fourth with former Morse High head coach John Shacklett on the section's all-time coaching victory list.
The Patriots lost to the No. 1-ranked team from Alaska, Soldotna High, 42-7, last Friday at Valley Stadium, as Nate Stine had a touchdown and seven tackles for Christian.
The Monarchs beat the Patriots back in 1980 in a Grossmont League game during Christian's one-year stint in the conference… MONTE VISTA, 22-21.
VALHALLA (2-0) at HILLTOP (3-0) – One of only two games in Week 3 to match San Diego Section undefeated teams.
Senior running back Kegan Baker has 468 yards and all eight of Valhalla's touchdowns through two games this season.
Baker runs behind the offensive line of Samer Faraj, Anthony Stephan, Allen Kalasho, Tyler Straub, Elijah Estrada, and Ibrahim Ibrahim.
The Lancers, under coach Drew Westling, are making a strong case as the South Bay's top outfit, averaging 45 points and 300 yards passing in three wins so far.
Valhalla is an underdog here against the higher-ranked foe so a win would dramatically improve the team's playoff chances in Division III.
These clubs are meeting for the first time since 1990. The Lancers won in 1985, then the Norsemen won the next five consecutive years… HILLTOP, 35-28.
SWEETWATER (1-2) at SANTANA (2-0) – Sultan senior quarterback Nathan Temple completed 12-of-15 passes for 195 yards and five touchdowns in the first half as Santana shutout section rival Mar Vista, 41-0.
Randy Smith and Nathan Hughes both had a pair of touchdown receptions for the Sultans, as the team improved to 3-0 for the first time in eight seasons.
Santana is currently the top-ranked team in the section's Division IV power rankings so this one is unlikely to be close. The top finishing team in the ratings gains home-field advantage through the semifinals of the playoffs.
Santana played at Sweetwater in a AA Division quarterfinal back in 1970, falling to the Red Devils, 34-18… SANTANA 40-16.
EL CAJON VALLEY (3-0) at CLAIREMONT (1-1) – A season ago, members of the El Cajon Valley Braves varsity football team were reduced to tears following what could only be described as a humiliating loss against host Coronado, 76-0, in the worst defeat the squad experienced during a winless season.
Last Friday night, the Braves may have executed the biggest one-season turnaround against an opponent in section history, knocking off the visiting Islanders, 20-7, to complete an 89-point swing from the previous year's result, winning their third-straight game to open the season.
For the Braves, it's their best start since a 5-0 stretch to open the 2016 season. With the win streak to open the season, ECV has moved into the top four teams in the section's Division V power ratings, likely already qualifying the team for a postseason berth.
Clarence Johnson had a 70-yard touchdown on a pass from quarterback Joe Malone on the first play of the game and Damarius Hyde tallied two short rushing scores.
El Cajon Valley also recorded four interceptions, including two by sophomore Daniel Jacobs, while Malone had a sack on defense.
Clairemont (1-1), which has a small roster in numbers, defeated Maranatha Christian last week 21-16, after being unable to field a full squad in its first game, which resulted in a forfeit.
ECVHS  leads the series, 6-2, over the Chieftains, including 3-0 this century.
The teams played in some notable venues back in the day.
Clairemont last defeated El Cajon Valley at Balboa Stadium in the 1967 season opener, 26-0. Clairemont also won the 1966 season opener, 7-0, in a game played a Mesa College.
But the Braves wn the '65 opener, 14-6, at Helix, 14-6, and in the '59 midseason at Aztec Bowl, 25-17, in Clairemont's first year as a school and fifth-ever football game… EL CAJON VALLEY 22-16.
MOUNT MIGUEL (1-1) at SANTE FE CHRISTIAN (2-1) (3:30 p.m.) – Two weeks ago, Mount Miguel senior Jahiem Allen-Pompey caught three touchdown passes from quarterback J.D. Laverdiere, as the Matadors went into their bye week off a 47-7 win over Chula Vista.
Laverdiere, a junior, had 313 yards through the air for his seventh career 300-yard game.
The Matadors offensive line of Christian Bernal, Quincy Snipes, Ulices Monte, Julius Ford, and Elias Doering – did a great job of protecting the passer, but will have to be strong against the Eagles, who are averaging more than three sacks per game.
These teams have contrasting offensive styles, as SFC has attempted just seven passes thus far and is averaging over 225 yards on the ground.
These two met last year with SFC winning 42-32… SANTA FE CHRISTIAN, 38-28.
HENRY (2-1) at EL CAPITAN (0-3) (6 p.m.) – The Vaqueros trailed 12th-ranked San Diego, 27-21, at halftime after the Cavers returned a couple of kickoffs for touchdowns but the Vaqueros dropped a 53-29 non-league decision at Balboa Stadium last Friday.
San Diego freshman Amare Ary, the son of former Mount Miguel High all-leaguer Dwayne Ary, scored four touchdowns and grabbed an interception as the Cavers won their 14th-straight game, the longest winning streak in the section.
The elder Ary once ran for 320 yards in a game against El Cajon Valley in 2002, although interestingly scored no touchdowns on that night.
Donny Green, Kalen Lavallais, and Taylor Grasmick scored touchdowns in the first half for El Cap, while sophomore teammate Antwone Yokley had a 42-yard interception return for a touchdown in the second half.
The Patriots took the lead last Friday against Monte Vista with 46 seconds left on a touchdown reception by former Helix basketball standout Kai Jessie.
Patrick Henry quarterback Matthew Castillo had 981 yards passing with 13 touchdowns throws this season.
El Cap leads Henry in the series, 4-3, winning all four this century, while the Pats won the games before the new millennium.
All three of those losses for the Vaqueros ('71, '73, '98) were CIF playoff games… HENRY, 36-34.
CHULA VISTA (0-3) at WEST HILLS (1-2) – The Wolf Pack arrived late in Whittier last Friday night before dropping a 7-6 contest to Santa Fe High, a club which had lost 12 of its previous 13 games.
Senior Kole Klingerman caught seven passes for 77 yards and a touchdown for West Hills. His score came in the second half after the Pack trailed, 7-0, at halftime.
Chula Vista has a pretty strong passing game, with nearly 700 yards in three games.
This game appears close on paper but West Hills should handle the Spartans. The Wolf Pack cannot afford an upset the rest of the year if they intend on making the postseason.
West Hills leads Chula Vista, 2-1, in the series, but CV won in a CIF playoff game in 2000. The Wolf Pack won last year, 13-0, in the South Bay… WEST HILLS, 18-17.
MISSION BAY (1-2) at MOUNTAIN EMPIRE (1-2) – Khaliel Whitehead, who had 400 yards of total offense in the win over Army-Navy last Friday night, has a breakout game as the RedHawks shutout Army-Navy, 30-0.
Junior Marcus Smith had nine receptions for 124 yards and a score for MEHS.
Jericho Brennan leads the Empire defense. He made 14 solo tackles in the win last Friday.
Mission Bay lost 27-26 against University City last week.
The RedHawks are right behind the Bucs in the Division V power ranking making this a matchup to determine a possible home game in the postseason.
These teams are meeting for the first time… MOUNTAIN EMPIRE, 26-25.
AVALON (1-0) vs. FOOTHILLS CHRISTIAN (3-0) (at Seau Field) – Foothills Christian's Tony Mroz passed for 179 yards and teammate Jason Oliviera returned a kickoff for a touchdown and caused a fumble that he recovered for a score.
The visitors from Santa Catalina Island won their 8-man opener, 73-14, over Ocean View Christian.
Lancer senior quarterback Antonio Ramos had 368 yards in his first career start, while junior teammate Beto Martinez set a school record with 210 yards receiving, so this one could be fun.
The Knights made the 26-mile ferry ride two years ago and brought back a 36-16 victory but the Avalon program has drastically improved since then, having won 12 of its last 15 outings.