Griffins return home, drop game to MSJC
Updated: September 22, 2019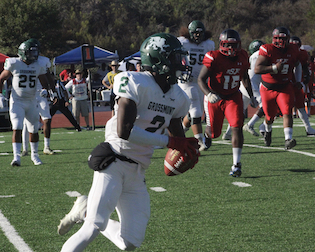 Grossmont receiver Mylik Steen runs with the ball on Saturday. / photo by Sebastian Dickens
2019 COMMUNITY COLLEGE FOOTBALL
MT. SAN JACINTO 27, GROSSMONT 14
EastCountySports.com staff report
EL CAJON – The Grossmont College Griffins debuted a shiny-new field and modern-day scoreboard on Saturday afternoon but couldn't put the finishing touches on the festivities, dropping a 27-14 decision to visiting Mt. San Jacinto College.
Grossmont trailed just 13-7 entering the fourth quarter.
After the Griffins punted on the first drive, MSJC went on a 70-yard drive and scored on an 11-yard run to make it 7-0. Those would turn out to be the only points MSJC's offense would score against the Griffins until the fourth quarter.
The MSJC defense scored on an interception of 35 yards for a touchdown in the second quarter. After a missed extra point, MSJC led 13-0.
Both defenses took control of the game for the rest of the first half. MSJC had a couple of drives that were terminated on defensive stops by Grossmont.
The second half started with MSJC getting the ball. The Eagles converted two third downs on their opening drive of the third, but the drive stalled and they punted. The MSJC defense, however, got its third interception of the game a later series.
Grossmont made a fourth-down stop on the ensuing series, however.
Grossmont was forced to punt again and former West Hills High standout Jack Browning hit a big one that was downed at the 1.
MSJC's offense was able to get one first down, then was forced to punt. A dropped snap and shanked punt put Grossmont in business at the Eagle 19-yard line.
Grossmont completed a pass inside the 2-yard line, setting up first and goal.
Grossmont was just able to reach over the goal line on fourth down from the half-yard line making it 13-7 as Jarius Burnette ran it in for an official 1-yard score.
MSJC was able to move the ball on the ensuing drive, but a false start forced a field goal attempt, which was blocked by the Griffins.
The MSJC and Grossmont defense continued to control the game until MSJC was faced with a fourth-and-one at Grossmont's 14.
The Eagles decided to go for it and quarterback Brett Virgil was able to get just enough on a quarterback sneak. Virgil then threw a touchdown pass for a 6-yard touchdown, pushing the score to 20-7.
MSJC scored from the 3-yard line pushing the lead to 27-7 with just over a minute left.
Grossmont was able to score on a 35-yard pass from Luke Arthur to Dominick Hudson to close the game to 27-14.
"Having a young offensive line as we have I feel like they are getting better and better every week," Hudson said. "I know (our coaches) will put us in the best position to win. It's on us to execute on every opportunity that we are given.
"If we come out to practice and fix up our mistakes and get the small details together, we will turn this season around."
The Eagles recovered the onside kick and ran out the clock.
"I think that our mental mistakes came from being tired mostly," Grossmont defensive back Derek Southerland said. "We were on the field a lot so we started to lose focus and they were able to capitalize.
"However, we were able to fight through the fatigue and hold them for almost the entire game no matter where we were on the field. It was a tough loss to a team that we were capable if beating but they were able to put together more successful drives than we were which was the deciding factor.
Grossmont had 186 yards total offense, 67 of which came on the final drive. Grossmont had 27 yards rushing on 24 attempts.
"We're going to see how it all works out this week," Grossmont head coach Mike Jordan said. "Our guys are going to have to step up and make fewer mistakes and run the offensive more efficiently than it is right now."
Grossmont's Peyton Monson had four receptions for 45 yards, while sophomore teammate Mylik Steen had three catches for 66 yards.
Burnette finished with 53 yards rushing.
Former Steele Canyon defender Robert Whitehead had seven tackles (4 solo), including one for loss, and a pass breakup.
Former Helix Highlander Tyreece Tarrant-Patane had two tackles for loss.
Also for Grossmont Joel Mewls had seven tackles and a pass breakup, while teammate Chance Lovato (El Capitan) had six stops and a defended pass.
"I can't speak for the offense the only thing we can do defensively is push them harder at practice and get them better each day," Southerland said. "I feel I only had one key play which was the field goal block which could have shifted momentum and got us into the game. Other than that, I need to perform better."