Gardner, Monarchs rumble past Spartans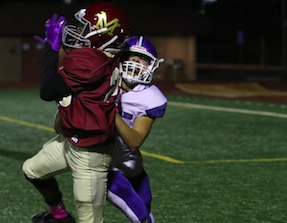 Monte Vista and Chula Vista battle for a pass on Friday night. / photo by Thomas Ringer
2019 EAST COUNTY PREP FOOTBALL
MONTE VISTA 34, CHULA VISTA 17
By Thomas Ringer
Special to EastCountySports.com
SPRING VALLEY – On the east side of Spring Valley, the Chula Vista Spartans came to take on the Monte Vista Monarchs on Friday night.
The Spartans came out and drew first blood while the Monarch defense held them to a field goal making the score 3-0 in the first quarter.
The game had been quiet until one minute left in the first quarter when senior quarterback Ruben Silva ran a 40-yard touchdown run on the first play after the Monte Vista defense had forced a three-and-out.
The following drive, the Spartans fumbled the ball early in the drive and the Monarchs recovered.
Monte Vista (2-4) had capitalized on this mistake with a pass and a great catch under pressure by junior wide receiver Dajon Shingleton to make the score 13-3.
That is until the Spartans came back and answered immediately with a great drive ending with a touchdown that made it a one-score game.
That is until senior running back Isiah Gardner took the ball at the end of a great Monarch drive down the field for one of his four rushing touchdowns.
"This win was a great boost in confidence for our football team today," Gardner said. "The last few losses have been because of silly mental mistakes and we are working really hard to make sure that these mistakes are lesser and lesser each time we touch the field.
"We are going to ride this win out and hopefully take it into our next game against Mount Miguel and come out with a (win).
Gardner went on to have three more rushing touchdowns, including a 50-yard rushing touchdown. Gardner had 177 yards.
The final of the game was 34-17.
The real feat of the game was earned by head coach Ron Hamamoto, of the Monte Vista Monarchs.
The win counted for his 229th win, which tied fourth all-time in wins for San Diego County with former Morse head coach John Shacklett. Hamamoto has previously coached for Cathedral, formerly called USDHS, for Rancho Bernardo and Lincoln.