Krug, Stine lead Patriot rush over UC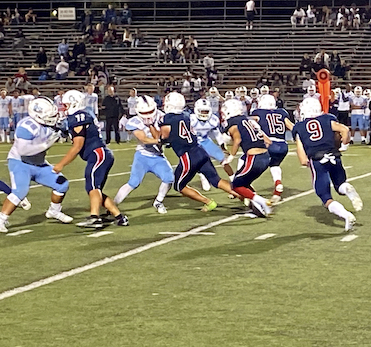 Christian's Gabe Krug takes off running on Saturday night. / photo by Dave Dickens
2019 EAST COUNTY PREP FOOTBALL
CHRISTIAN 42, UNIVERSITY CITY 35
EastCountySports.com staff report
EL CAJON – The Christian Patriots didn't feel the need to pass on Saturday night against visiting University City High.
Whilst by design or as a result of their first notice of the dominance on the ground, the Patriots held off the late charge of the University City Centurions, 42-35, in the Eastern League opener for both teams at Valley Stadium on Saturday night.
The Patriots rushed for 476 yards, including a combined 357 yards by junior quarterback Gabe Krug and senior running back Nate Stine.
Krug had 192 yards rushing, while Stine had 165 yards.
Christian had a couple of three-score leads in the second half, but UC was rallying late.
Krug rushed for four touchdowns, while Stine had a pair of scores.
It was an anticipated matchup of potential Division I quarterbacks but only one team got off the ground, and it wasn't Christian.
But not in a literal sense the Pats were just fine toting the ball, which kept the ball out of the hands of UC's Gunnar Gray.
Krug had touchdown runs of 10 and 13 yards in the first quarter as the Patriots opened up a 14-0 lead.
The Centurions' Skip Waltower caught a 2-yard touchdown pass from Gunnar Gray to make it 14-6.
Stine scored his first touchdown in the first quarter for a 21-6 lead on a 6-yard run.
However, UC returned the kickoff for a touchdown in a first quarter which featured 33 points.
Krug had the only second in the second frame, a three-yard run that gave CHS a 28-12 halftime lead.
Krug's 25-yard bootleg keeper to the right resulted in a touchdown in the third quarter as Christian led, 35-12.
Stine rushed for a 2-yard score in the fourth quarter which gave Christian a 42-20 lead.
Christian Salacup had an interception in the end zone for CHS in the second half to keep the score at 28-12. He also rushed seven times for 99 yards, including a 54-yarder in the first quarter
Patriot senior Todd Beezer forced a fumble, which was recovered by Andrew Young, of the Pats, with four minutes to go in the second quarter.
Senior Opper Carson led CHS with five tackles, while teammate Wyatt Martinez added four tackles, including one for loss.
Alex Markowicz recorded a sack for the Pats, who will travel to face Mira Mesa (1-5) next week. The Marauders lost their Eastern League opener to La Jolla, 15-7.
---
Did you enjoy this story by Ramon Scott? Consider donating to Ramon directly…