Comets over Griffs; RCC clubs Mesa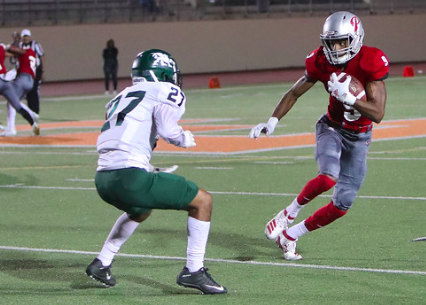 Palomar has the ball against Grossmont on Saturday night. / photo by Hugh Cox
2019 COMMUNITY COLLEGE FOOTBALL
PALOMAR 36, GROSSMONT 14
EastCountySports.com staff report
ESCONDIDO – The Palomar Comets defeated the Grossmont Griffins, 36-14, on Saturday night at Cougar Stadium.
It was the fifth consecutive loss to open the season for Grossmont.
Palomar (2-3) led 26-0 after three quarters.
Rodney Thompson was 25-of-37 on passing attempts for 316 yards and two touchdowns.
Kyran Griffin and Isaiah Batton both had seven receptions for Palomar.
Johnny Armentrout and Batton were on the receiving end of the touchdown receptions.
For Palomar, Jay Craft, Kevin McKinzie and Kameron Camp had interceptions on consecutive drives in the first half.
For Grossmont, Robert Whitehead had seven solo tackles, including two for loss.
The Comets are now 7-1 against Grossmont since 2012 and have won six straight against the Griffins.
Craft's interception set up the first touchdown for the Comets, which was a 39-yard touchdown pass from Thompson to Batton.
The Griffins drove to the Palomar 39-yard line but the second interception by the Comets ended the march.
The Comets scored on a rushing touchdown by Thompson following the third interception. Palomar led 13-0 after a failed point-after attempt.
Palomar's Daishawn Lee rushed for a one-yard touchdown, as it was 19-0 at halftime.
In the third quarter, Damon Wigand scored on a 3-yard run.
Grossmont's Jarius Burnette had a 62-yard kickoff return put the Griffins at the Palomar 25-yard line, where they converted for their first score on a 7-yard touchdown pass from Luke Arthur to Dominick Hudson.
The Comets then went on an 8-minute drive and scored a touchdown on a 5-yard pass from Thompson to Armentrout.
Grossmont scored just 31 seconds later with 36 seconds left in the game on a 63-yard pass from Tanez Davis to Amari Colbert.
"I think the offense is perfect the way it is," Grossmont offensive lineman Mason Tileia said. "It's all executing and we have a good group of guys, we just need to come together as one and go work on Saturdays.
"I know were an 0-5 team and I know it doesn't affect any players on this team and I know my guys will push forward. I see a lot of talent in all our quarterbacks. We just need to work on coming together and communicating when we see that something's off."
Grossmont quarterback Joaquin Quintana-McKinney was 8-of-16 passing.
I think Joaquin had a good game both times that he started and we're looking to improve every day with each other," Tileia said.
The Comets had 430 yards of total offense, including 316 passing.
Kyran Griffin had 93 receiving yards on seven receptions for the Comets, while Batton had 85 yards on seven receptions.
Defensively, the Comets allowed only 152 yards, including minus-6 rushing, for their lowest defensive totals of the season.
Kobe Dominguez had 11 tackles on the night, including two sacks.
"We're sticking together and fighting until the end," said Grossmont's Anthony Sola, who had a tackle-for-loss and a hurry. "We know we can be great but we still need to put everything together.
"I have to control my emotions, keep working on my craft and get better every week."
Grossmont specialists Jack Browning had a pair of PATs, a 41-yard punt average, and a touchback.
"I come to practice every day with the mindset of always trying to get better," Browning said. "Then, as game day comes around, I trust all the practice that I have put in, as well as my teammates and coaches and just try my best to get my job done."
"Each week we begin to click just a little bit more. From the beginning of the season to now, we have progressively been getting better and better on both sides of the ball.
"We are a young team and with that comes growing pains. Each week we learn what we can strive to do better next week. As long as we don't get discouraged and try our best to stick together as a team, the success will come."
Grossmont (0-5) will host No. 1-ranked Riverside in two weeks.
"The major adjustments would have to be on this bye week getting healthy and also getting back to practice and preparing physically and mentally for Riverside," Sola said. We need to push each other harder this week in the weight room and the field and study film the best way we can to try and start a winning streak against Riverside."
The Comets are now 2-3 and have a bye next week, as well. Palomar will be back in action on Oct. 19 when it faces Mt. San Antonio College on the road to open up National Central League conference play.
---
2019 COMMUNITY COLLEGE FOOTBALL
RIVERSIDE 62, MESA 21
EastCountySports.com staff report
SAN DIEGO – Top-ranked Riverside City College put on the afterburners in a 61-26 win over eighth-ranked host San Diego Mesa at Douglas Stadium on Saturday night, handing the Olympians their first loss of the season.
Both teams came into the matchup with a 4-0 record.
The score was tied just 7-all at the end of the first quarter and a manageable 21-7 at halftime in favor of RCC.
Asante Hartzog passed for three touchdowns for Mesa, two of them going to Antwoine Wage, who finished with five catches for 117 yards.
Dom McManus had seven receptions for 60 yards and an 18-yard touchdown for the Olympians, while teammate Thomas Fishburne caught five passes for 53 yards and an 8-yard score, which came in the fourth quarter with 8:32 left, cutting the Riverside lead to 47-26.
Thomas Yam also threw a touchdown pass for Mesa, which fell to 4-1.
Mesa was out-gained on the ground, 354-52. The Tigers rushed for seven touchdowns and also scored on a 22-yard fumble return.
Darian Williams had a busy night for the Mesa defense with 14 tackles (8 solo) and 3 1/2 tackles for loss. Teammate Isaiah Sayles had 12 assists.