Hot Jaguars stop Huskies in tracks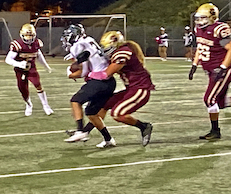 Southwestern makes a stop against East L.A.
2019 COMMUNITY COLLEGE FOOTBALL
SOUTHWESTERN 27, EAST LOS ANGELES 17
EastCountySports.com staff report
CHULA VISTA – The Southwestern College Jaguars won their fourth-straight game by holding off visiting East Los Angeles, 27-17, at DeVore Stadium on Saturday night.
Sophomore quarterback Joshua Owen passed for three touchdowns to receiver Davion Johnson and receiver Terry Wright threw a 50-yard touchdown pass to Deago Stubbs on the first play of the game as the Jaguars improved to 4-1.
"We got them on the first play of the game," Southwestern coach Ed Carberry said. "The guy was wide-open. It was one of the best-ever throws by Terry Wright. He just cut it loose. "
Owen's first touchdown to Johnson came on the Jags' second possession and increased the lead to 14-0 on a 45-yard hookup.
The Huskies brought it back to within a touchdown on a 4-yard pass with 3:32 left in the first half.
Then, East L.A. tied the game with a scoring drive on the first series of the second half.
"We just beat Fullerton and now we are having trouble on both sides of the ball," Carberry said. "We had to get back to what we were doing the week prior and that was run the ball effectively, then let it allow Josh to get the ball out to his receivers."
After the Huskies tied it, the Cougars quickly moved down the field in six plays, covering 62 yards.
Owen started the drive with a 35-yard connection to Stubbs, who finished with four receptions for 87 yards.
Then the quarterback found Johnson again for a 15-yard score to regain the lead with 8:21 to go in the third.
"(Johnson) is a play-maker," Carberry said. "He gets getting open and Josh is getting it to him."
The Huskies edged to within three with a field goal with just a tick under three minutes left in the third quarter.
Johnson's third touchdown came with 6:46 left in the game on a 26-yard pass from Owen. Johnson finished with five catches for 101 yards.
"(Owen) believes he can make any throw," Carberry said. "But he believes in taking no sacks. He gets rid of the ball somehow."
The Jags eventually drove down to the 3-yard line taking the final four minutes off the clock.
"(East L.A.) was big and physical," Carberry said. "I was impressed by their size when looking at them before the game."
Southwestern limited East L.A. to just 78 yards passing on 12-of-27 attempts.
Freshman linebacker Josh McCurty had a huge night with 12 solo tackles, including four for loss and a sack.
Ubaldo Torres also registered a sack for SWC.
Sophmore Atoa Fox had six solo tackles, including two for loss.
"The defense is playing really well and the offense has kind of found itself," Carberry said.
Southwestern running back Keylan Chapman rushed for 81 yards on 23 carries.
"(Chapman) needs to get more carries the rest of the year," Carberry said. "He's a big, tough, and physical back. He hasn't scored yet, but you have to get him a workout in. He's like a thoroughbred. He is unbelievably hard to tackle."
Owen finished with 245 yards passing.
"We just have to get out of Josh's way sometimes and let him operate," Carberry said.
Speedy running back Pierre Robinson had 97 yards for East L.A., including a 71-yard run.
Southwestern has a bye next week before the Jaguars play Saddleback (5-0) on the road.
"They have speed and can run things down," Carberry said. "We have to match their intensity. For us, it is a playoff game every game the rest of the way. Beating a team like Saddleback would make a big difference."