Sultans rip Cup back from Wolf Pack
Updated: October 12, 2019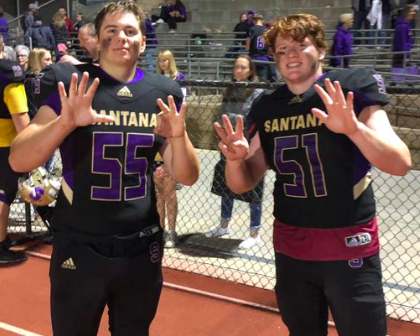 Seniors Jayce Lynch (55) and Luke Simanek after Friday's win.
2019 EAST COUNTY PREP FOOTBALL
SANTANA 27, WEST HILLS 13
EastCountySports.com staff report
SANTEE – Good thing Santana senior Brooks Moutaw didn't miss the opening kickoff on Friday night.
Moutaw made it to the game in plenty of time to return the opening kickoff 97 yards as the 14th-ranked Sultans won the Honorary Jack Dale Mayor's Cup for the first time in eight years with a 27-13 win over "their" rival, the West Hills Wolf Pack, at Santee Community Stadium.
Moutaw rushed 18 times for 94 and a touchdown in the fourth quarter which gave the Sultans a 21-6 lead with nine minutes to play. He finished with 242 all-purpose yards on the night.
Senior quarterback Nathan Temple was 12-for-18 for 110 yards and also ran for a score in the second quarter to gave Santana a 14-6 lead.
Senior Dawud Saddler rushed for an 8-yard touchdown midway the fourth quarter, upping the advantage to 27-6. He also had two sacks and six tackles total on the night.
Junior Nick Brase led Santana with nine tackles, while senior teammate Cameron La Riccia tacked on eight.
Senior lineman Luke Simanek had six tackles, including a sack.
Santana senior Randy Smith had eight receptions for 82.
West Hills senior Kole Klingerman had two receiving touchdowns for West Hills, including one-handed catch on the second TD with five minutes to play that made it 27-13.
Klingerman had a 41-yard touchdown on a pass from sophomore quarterback Braden Oberg that made the score 7-6.
Temple had a quarterback keeper to make it 14-6 in favor of Santana in the second quarter.
West Hills missed a field goal off the left upright with seven minutes left in the third quarter, leaving the score at 14-6.
Santana (8-0, 2-0 Grossmont Valley League) recovered a fumble by West Hills and took over at the Pack 32.
The Sultans converted the drive into points by scoring a touchdown on a 2-yard run by Moutaw.
Santana then blocked a punt and a minute later, Saddler added his 8-yard touchdown run.
West Hills (4-3, 1-1 Grossmont Valley League) recovered a fumble by Santana on its own 44-yard line with five minutes to play.
With two minutes left, Santana made a fourth-down stop to turn the ball over.
It was the Sultans' first win over West Hills since 2011.
As if Santana hasn't already won a pair of critical games on the way to a potential league championship, standing in the Sultans' way next week is defending champion Monte Vista, a game which will be played in Spring Valley.
The Monarchs took apart visiting Mount Miguel, 55-34, on Friday night, while Santana defeated Mount Miguel on the road, 56-14, a week ago.
SANTANA 27, WEST HILLS 13
West Hills 6 0 0  7 - 13

Santana    7 7 0 13 – 27
S – Brooks Moutaw 97 kickoff return (Nathan Hughes kick)
WH – Kole Klingerman 41 pass from Braden Oberg (kick failed)
S – Nathan Temple 1 run (Nathan Hughes kick)
S – Brooks Moutaw 2 run (Nathan Hughes kick)
S – Dawud Saddler 8 run (kick failed)
WH – Kole Klingerman 8 pass from Braden Oberg (Luke Bethune kick)