Odom delivers Hiller win over Eagles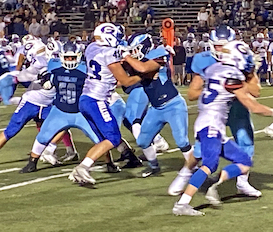 Granite Hills and Grossmont battle on Friday night. / photo by Dave Dickens
2019 EAST COUNTY PREP FOOTBALL
GROSSMONT 33, GRANITE HILLS 32
By Jim Lindgren
Special to EastCountySports.com
EL CAJON – As a three-year starter at quarterback in the county's most explosive offense, Jaime Odom is well aware there is more than one way to clip an eagle.
Usually, Odom does it with deft passing and quick strikes to a host of receivers.
On Friday night against Granite Hills, Odom grounded the Eagles with his legs, rushing for two fourth-quarter touchdowns on a pair of clutch fourth-down plays to lead the No. 9-ranked Foothillers to a 33-32 triumph at Granite Hills' Valley Stadium.
The final run was a beauty.
Down by 5 with 1:33 left, the Foothillers faced fourth-and-2 from their 46-yard line when Odom took a shotgun hike from Andru Sanders. On a read-option play that appeared doomed when Odom bumped into tailback Robert Tucker, Odom escaped with the ball and raced to his right to pick up the first down.
He then cut left up the middle and narrowly avoided several defenders, almost tripped up along the way before sprinting down the left sideline and then cutting back once again to avoid a defender around the 10-yard line before plowing into the end zone for the game-winning score.
"Great run blocking by my offensive line and a great fake by Tucker," Odom said. "Then a guy whipped my leg, and I was barely to keep my balance and keep going. I wasn't sure about the touchdown until the very end."
With the win, Grossmont improves to 6-1 and 2-0 in the Grossmont Hills League heading into next week's showdown with No. 1-ranked Helix (6-1, 2-0) at Grossmont. The Foothillers haven't beaten Helix since 1991, losing 23 straight times to the Scotties.
Granite Hills (4-3, 0-2) was a tri-champion in league last year with Helix and Steele Canyon but has now lost two in a row for the first time since 2016.
The Eagles failed to score on three conversion attempts after touchdowns – one on a blocked PAT kick by Joseph Rosas, one on a running play and one on a pass.
"They made a huge play at the end of the game," Granite Hills coach Kellan Cobbs said. "We need to find out how to get one play better, one point better.
"It was a really good football game by two great teams. Unfortunately, it didn't go our way."
Granite Hills got a huge interception and 62-yard return by homecoming king Jeremiah Satberry in the fourth quarter. Two plays later, the Eagles scored on an 18-yard bounce and run by Jaquayle Hodges for a 32-21 lead with 8:00 left to play.
Tucker and the 'Hillers answered with an 82-yard kickoff return to the 5-yard line. On fourth-and-goal from the 3, Odom kept on another read-option play to score and cut the margin to 32-27. (Grossmont also failed to score on its final two conversions attempts.)
Granite Hills then faced a fourth-down punt situation on its next possession, but punter Matthew Keeley instead threw to Ethan Bishop, who picked up 33 yards and a first down.
Four plays later, however, Grossmont stuffed Hodges for a 2-yard loss on fourth down, and the Foothillers took over at their own 38-yard line with 2:48 left. Odom settled the score with his 54-yard scamper.
"We put the ball in our best player's hand, and he came through," Grossmont coach Tom Karlo said. "We came up with one more big play than them.
"As a coach, I'm really proud of how the kids persevered. Down 11 after an interception, to come back like that was huge.
"This is why we coach high school football. This was a great high school football game."
Odom, mind you, carries a 4.62 GPA in the classroom and runs the most prolific offense in the San Diego Section as Grossmont came in averaging 546 yards and 42 points per game.
"Defense stepped up big time," Odom said. "Special teams really came through. Tucker getting that ball back to the 5-yard line, that was huge. It was a total team effort."
On a night when Odom passed for only 129 yards – well below his average of 280 yards per game – and zero touchdowns for the first time all season, the senior quarterback rushed for 114 yards and two scores on just eight carries. He was 17-of-30 passing with one interception, just his third of the season.
Tucker rushed for 191 yards on 14 carries, caught four balls for 52 yards and finished with 355 all-purpose yards. He had 162 rushing yards and touchdown runs of 67, 13 and 55 yards in the first half as Grossmont took a 21-19 lead into intermission with 255 total yards.
The 'Hillers wound up with 446 total yards and five rushing touchdowns.
Granite Hills' Justus McComb completed his first nine passes and finished 24-of-38 passing for 267 yards, including three touchdowns. He also rushed eight times for 29 yards.
McComb hit Carlos DeLeon for an 18-yard scoring strike on the Eagles' first possession to take a 7-0 lead.
Grossmont answered three plays later as Tucker raced 67 yards for a score to tie it.
Granite then went 65 yards in nine plays to take a 13-7 lead when Juni Harris scored on a 23-yard pass from McComb on the first play of the second quarter.
Minutes later, Tucker capped a nine-play, 63-yard drive with a 13-yard TD to give Grossmont a 14-13 lead.
After a three-and-out, Grossmont marched 76 yards in four plays, going ahead 21-13 on a 55-yard run by Tucker, who now has 847 rushing yards and eight TDs.
Granite Hills answered with a 12-play, 93-yard scoring drive, pulling to 21-19 on a 1-yard run by Keyvon Martin with 0:47 to play before the halftime homecoming parade and fireworks display.
Jacob Setterberg had the only score of the third quarter – a 36-yard pass from McComb – as the Eagles re-took the lead at 25-21. Hodges' 18-yard TD followed Satberry's interception return, and Grossmont looked doomed trailing 32-21 with only 8 minutes left.
Granite Hills finished with 399 total yards after gaining 232 in the first half.
"Our offense kind of sputtered there in the second half," Cobbs said. "The fake punt was huge for us. It should have swung the game our way, but we didn't capitalize on offense."
It was a bittersweet evening for the Odom family and papa John Odom, a former head coach at Valhalla. Jaime Odom was the hero, but sophomore linebacker Ryan Odom sustained a broken collarbone in the second quarter.
While Grossmont has its hands full with Helix next week, Granite Hills travels to Lakeside to take on El Capitan (0-7, 0-2), which lost to No. 4 Steele Canyon 35-13.
GROSSMONT 33, GRANITE HILLS 32
Grossmont     7 14 0 12 – 33

Granite Hills 7 12 6  7 – 32
GH – Carlos DeLeon 18 pass from Justus McComb (Gavin Armstrong kick)
G – Robert Tucker 67 run (Axel Gonzalez kick)
GH – Juni Harris 23 pass from Justus McComb (kick blocked)
G – Robert Tucker 13 run (Axel Gonzalez kick)
G – Robert Tucker 55 run (Axel Gonzalez kick)
GH – Keyvon Martin 1 run (run failed)
GH – Jacob Setterberg 36 pass from Justus McComb (pass failed)
GH – Jaquayle Hodges 18 run (Gavin Armstrong kick)
G – Jaime Odom 3 run (pass failed)
G – Jamie Odom 54 run (pass failed)