Johnson's risks brings big returns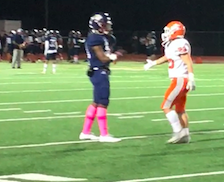 T-Max Nyumah, of Steele Canyon, and Kegan Baker, of Valhalla on Friday night.
2019 EAST COUNTY PREP FOOTBALL
STEELE CANYON 49, VALHALLA 7
EastCountySports.com staff report
SPRING VALLEY – Steele Canyon senior Chance Johnson may be the county's top return specialist.
Last week, Johnson had two punt returns for touchdowns in a win over El Capitan.
On Friday night, Johnson, who just this past week received his first Division I offer from San Jose State, had two kickoff returns for touchdowns, as the fifth-ranked Cougars improved to 8-0 with a 49-7 win over the visiting Valhalla Norsemen in a Grossmont Hills League game on Friday night.
The Cougars retained possession of the Jamacha Helmet for the third-straight year. Steele Canyon moved to 3-0 in GHL play.
Steele Canyon had already built a 28-0 halftime lead behind a pair of touchdown runs by junior Wesley Neely III but Johnson got into the end zone twice in the second half.
Johnson brought back the opening kickoff of the second half 81 yards. He added an 84-yarder with 8:27 left in the game, producing the final margin.
Neely, who finished with 99 yards rushing, scored on a 43-yard run just 3:03 into the opening quarter.
Senior linebacker James Bradle had an interception and 15-yard return later in the first quarter, setting up Neely's first score of the game from 15 yards out as he went into the spin cycle to skirt away from Norse defenders.
On the last play of the first quarter, Steele Canyon junior Colton Guerrero recovered a fumble.
On the first play of the second quarter, Chris Carter turned the turnover into points with a 19-yard touchdown run, giving the Cougars a 21-0 lead.
Carter scored his second touchdown of the quarter on a 26-yard run with four minutes to go before intermission. He finished with 76 yards rushing.
With 1:42 left before halftime, junior quarterback Elia Kirismasi tossed a passed to senior Isaac Carreno, who turned the play into a 51-yard touchdown.
Seniors Viliamu-Ah-You Morse had two sacks for Steele Canyon. Senior Aiden Oakley also had a sack for Steele Canyon.
Senior Josiah Stewert had two tackles-for-loss for SC, while senior Cam Ewert recorded a tackle-for-loss for the Cougars.
Senior receiver Javaya Boyd led Steele Canyon with three receptions.
Sophomore place-kicker David Martinez was 7-for-7 on his point-after tries.
Valhalla senior running back Kegan Baker had a touchdown run 1:15 into the fourth quarter.
Senior Ryan Perot had an interception for Valhalla, while Giovanni Alejo recorded a defended pass for Valhalla (3-5, 0-3 GHL).
Steele Canyon senior running back/linebacker Junior Akintunde will miss the remainder of the season with a knee injury.