TIGERS PREY, FEAST ON PATS' HOMECOMING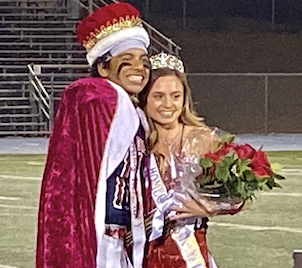 2019 EAST COUNTY PREP FOOTBALL
MORSE 58, CHRISTIAN 22
By Dave Dickens
EastCountySports.com
EL CAJON (10-18-2019) – As many media conglomerates had forecasted, the Christian Patriots at home, coming into their homecoming festivities stood more than a chance against the Morse Tigers.
And with the former King and Queen as special guests from the prior year, running back ALEX GONZALEZ and LAUREL BEEZER, along with many other former players from 2018, including quarterback OWEN EASLEY, the Patriots knew they were out to impress the dignitaries.
This year's King is CHRISTIAN SALACUP and MADDY WORLEY is the Homecoming Queen.
With a fired-up crowd and homecoming festivities awaiting, along with sold-out home stands, it appeared the Patriots had early inspiration on their side.
The inspiration led to a first strike by the Patriots, who drew first blood and were up a quick 7, on a first
possession kickoff return.
However, the visiting Tigers returned the favor but decided to add their own personal touch with a successful two-point conversion, with the quick answer to Christian High's lighting quick score, leaving the score Morse, 8-7, with only less than five minutes into the contest.
Talk about a well-forecasted contest, well, so we all thought.
With Morse in possession on offense, and six minutes remaining, Tiger running back Michael Cunningham scampered into the end zone for a 5-yard touchdown, and with a successful two-point conversion to boot, Morse now was up 16-7.
The Patriot defense was stymied, just physically overmatched as the Tigers continued to score at will as, yet again, Cunningham bombarded the Patriot defense with quite a few attempts, however, punched in a three-yard TD, and a failed conversion with the Tigers now leading, 22-7, with 11 minutes left in the second quarter.
Coach Matt Oliver and offensive coordinator Dave Beezer were not done, not by a long shot, with different personnel, formations on offense and defense, the Patriots were fighting with all their might.
Christian just couldn't come up with any of their magic tricks to slow down and tame these ferocious Tigers.
Now, Morse runningback Jaycob Hicks joined in on the offensive scoring on a 7-yard burst in for the touchdown, adding also a pair with yet another successful two-point conversion, leaving the score at 30-7.
A couple of miscues, dropped balls, an overthrown ball, or plain just unable to convert, left the Patriots short nearly every possession.
That being said, unfortunately, the Tigers would score two more times, leaving the score at 38-7, Tigers.
However, with approximately 40 seconds left in the first half, Patriots QB GABE KRUG was able to hit
tight end TODD BEEZER for a big first down. The last play of the half, Krug had a long run, coming up inches
short and didn't go out of bounds.
It was more of the same story, unfortunately, for the overpowered Patriots in the second half.
A 35-yard pass from Cunningham to Kahlen Sablan, who was also a thorn in the Patriots' side.
The Tiger conversion failed, leaving it at 44-7, early in the third quarter.
In the third quarter with under five minutes to go, Krug rushed himself into the end zone and a successful two-point conversion made the score 44-15.
Morse would tack on 14 more points, going up 58-15.
With under two minutes left in regulation, Krug ran in the last 2-yard TD and a successful extra point, left us with a final of 58-21, Morse.
Christian (5-3, 2-1 Eastern) will be looking to avenge this loss as they travel to Fernley, Nevada.
This one is a small blemish as the Patriots should win out and win the Eastern League.