Vikes have RedHawks hitting weights
Updated: October 18, 2019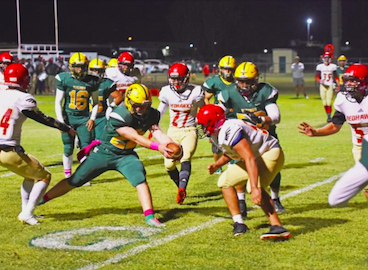 Holtville scores against Mountain Empire on Friday. / IVPress
2019 EAST COUNTY PREP FOOTBALL
HOLTVILLE 54, MOUNTAIN EMPIRE 0
EastCountySports.com staff report
HOLTVILLE – Mountain Empire lost to rival Holtville, 54-0, on the Vikings' Homecoming in a Manzanita League matchup on Friday night.
Mountain Empire was last year's Manzanita League champion thanks in large part to its 20-14 win over the Vikings in Pine Valley.
Marcus Smith, the RedHawks' star wide receiver, was unavailable to play in this year's contest after an ejection last week against O'Farrell Charter.
Holtville had a 90-yard kickoff return for a touchdown by Sebastian Aviles to start the game.
The RedHawks went three-and-out and their first drive and had to punt from their own end zone, which resulted in a Viking possession at the MEHS 39.
Three plays later, Holtville scored to make it 13-0.
Mountain Empire punted from their own end zone again on their second possession, which led to another Holtville touchdown, as quarterback Spencer Hilfiker scored a 3-yard touchdown.
Mountain Empire (2-6, 0-1) picked up a first down on its third drive when Jerricho Brennan made a 24-yard catch.
Holtville's CJ Nunez had a sack, then Mountain Empire quarterback Khaliel Whitehead was intercepted by Richie Garcia, who returned the ball 40 yards for a touchdown to make it 27-0.
The Vikings added a pair of touchdown passes by Hilfiker.
After halftime, a running clock was instituted. Jose Devoux had two touchdown runs in the second half, including a 50-yarder.
Mountain Empire forced and recovered a fumble.
"We had some nice defensive plays," Mountain Empire assistant coach Ricky Prince said. "Our O-line blocked well but (Holtville) brought a lot of pressure. But because (Whitehead) was hurt, he couldn't utilize his ability to run.
"We had a couple of fumbles and an interception. If you can't win the turnover game, it's hard to win the real game."
Whitehead had nice passes to Nick Rose and Zayne Higuera, according to Prince.
"Higuera has good hands, " Prince said. "We are hoping to get the ball to him more in the next couple of weeks."
Mountain Empire will face Calipatria this Friday. A win will likely secure a Division V playoff berth for the RedHawks.
"Just dealing with the injuries that we had, we'll be happy to get back to practice on Monday," Prince said. "We still have a fighting chance. We will fight and scrap until the end and that is just what we are going to do.
"It's time to go back to the drawing board, but I feel confident and positive going into the game. We will prepare and get the result that we want."
Mountain Empire recently broke the ribbon on a new $52,000 weight room facility thanks to donations.
Holtville (7-1, 1-0 Manzanita League)  would name Fabian Rendon the Homecoming King and Amelie Strahm the Homecoming Queen, respectively.
The Vikings will meet Vincent Memorial for the Manzanita League title this week.
"I'm very pleased with how we performed," Holtville head coach Jason Turner said. "We only have three league opponents, and we took care of one tonight, and these guys won the league championship last year. It was Homecoming. It was a league foe. We beat them, and now we're definitely on to Vincent."