Pack escape with win over Matadors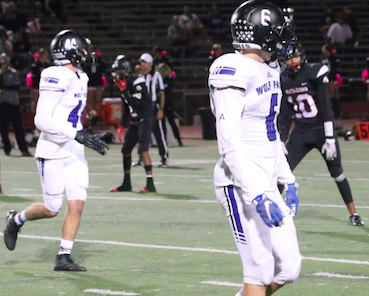 West Hills lined up against Mount Miguel on Friday night. / photo by Thomas Ringer
2019 EAST COUNTY PREP FOOTBALL
WEST HILLS 28, MOUNT MIGUEL 27
By Thomas Ringer
Special to EastCountySports.com
SPRING VALLEY – The Mount Miguel Matadors hosted the West Hills Wolf Pack in a Week 10 matchup at the Mount in Spring Valley that came down to the wire on Friday night.
The contest had come down to the last few seconds of the game when the Matadors trailed by only a touchdown with 40 seconds left in the fourth.
Mount Miguel was really showing the Wolf Pack what the two-minute drill really means.
Mount Miguel got the ball to Jahiem Allen-Pompey, the leading receiver in the nation in yards receiving, at just the critical moment.
Allen-Pompey got a bubble screen and took the ball into the end zone to make the score 28-27 in favor of the visitors with a half-minute left in the game.
That is when the Matadors and coach Troy Starr were forced with the decision of PAT or a two-point conversion.
The Matadors decided on the two-point conversion, which, in the end, had not gone in their favor after a designed play that was supposed to be a handoff and pass by Allen-Pompey never got underway when Mount Miguel couldn't execute the snap.
The game had been a surprising comeback for the Matadors.
Mount Miguel had been down two touchdowns midway through the third quarter.
That changed when junior cornerback Jojo Castillo had a 55-yard pick-six in the third quarter trying to change the momentum of the game, and he did just that.
The changing point for the Wolf Pack was the third touchdown.
A pass by sophomore Braden Oberg to senior wide receiver Kip Klingerman, which came out to a 60-yard play, appeared to almost be the deciding factor in the game.
West Hills eventually got the decisive touchdown on a pass option from Brendan Greene to Steven Cristini following a handoff from four yards out to make it 28-21.
Although, what decided the game was the Wolf Pack's defense on the last play of the game.
They stuffed the Matadors behind the line of scrimmage as the ball came loose, showing Mount Miguel that they had this game in the bag.
The final score was 28-27 in favor of the West Hills Wolf Pack, who will play for a share of the Grossmont Valley League championship next Friday night when they face first-place Monte Vista.
Josie Conteras was the Homecoming Queen while Mount Miguel senior defender Charlie Ray was the Homecoming King.