VAQUEROS FIGHT, LOSE BATTLE TO NORSE
Updated: October 26, 2019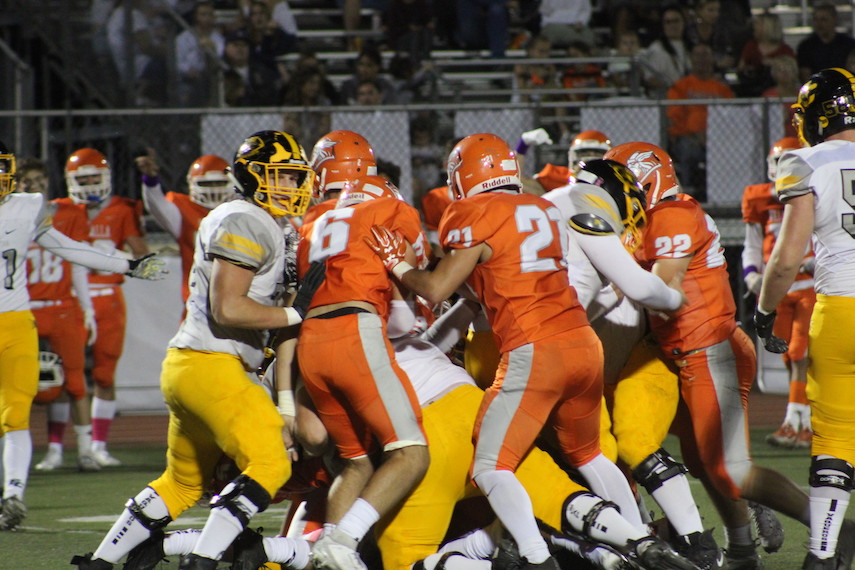 Valhalla and El Capitan stack up on Friday night. / photo by Dave Dickens
2019 EAST COUNTY PREP FOOTBALL
VALHALLA 28, EL CAPITAN 20
By Dave Dickens
EastCountySports.com
LAKESIDE (10-25-2019) – The El Capitan Vaqueros have one of the top offenses in the county.
El Capitan displayed that fact, and that they also possess an ever-improving defense, just ask the Granite Hills Eagles, as the Vaqueros hung on to win their first win of the season, 25-23, just last week to snap their winless streak.
As Granite Hills coach Kellan Cobbs said last week following the stunning loss, "Their record doesn't establish how talented this team really is."
After defeating the Eagles last week, the Vaqueros felt they were more than prepared to compete with the Valhalla Norsemen (4-5, 1-3 Grossmont Hills League).
El Cap came out of the gate fired up and ready to clinch a playoff spot, and came packing its hometown crowd from Lakeside to assist in with their feat.
The crowd noise from both sides was an extremely playoff-like atmosphere.
Valhalla did receive the ball, however, they were stopped in their tracks courtesy of the Vaquero defense.
However, Valhalla would break the scoreless tie on a 37-yard run by Josh Meridith, along with a 25-yard scamper by Kegan Baker, as both extra points were successful for a 14-0 with 3:26 left in the first quarter.
El Cap had had enough of this as they put together a great drive of their own, ultimately sending Vaquero running back Donny Green in for a 25-yard scamper by the bruising back, who took it in for six.
It was a 3-yard run by Green, and he fought for every yard, as the kick was successful to make it 14-7, Valhalla, with 1:10 left in the first quarter.
The Norsemen, however, were not yet finished as they put together a drive that sent a Baker in for 1-yard run with 2:04 left in the half and with the kick successful, it was 21-7 Valhalla.
El Cap would score yet two times, the first with 11:16 left in the third quarter on a gorgeous 66-yard screen pass from quarterback Wick Hauser to Kalen Lavallais, and with a kick successful, it was 21-14, as the Vaqueros were right back in this one.
Six minutes later, along with some spectacular defense on behalf of the Vaqueros, Hauser tossed another beauty to Sean Dickson, who finished the run into the end zone on the 5-yard pass with 5:44 left in the third quarter. The extra point was blocked, leaving the score 21-20, Valhalla.
Hauser was not the gunslinger typically he would be, however, he did toss two touchdowns for 108 yards and two interceptions. He also amassed 78 yards with his quick feet, leading in rushing Friday evening.
Savi Yokley averaged almost 46 yards punting and the Vaqueros also had two punt returns of 35 yards or more.
Unfortunately, Savi will miss the rest of the season with a broken collarbone, which he suffered in the contest.
"It has been a very disappointing season and just a few series from being 7-2, 6-3 at this point," El Capitan head coach Ron Burner said. "Valhalla did a great job tonight and had a very good game plan that they executed well.
"We came in wanting to run the ball and they pretty much shut that down. Wick again played his butt off and things just didn't go our way all night."
There were some questionable calls against El Capitan, atrocious calls, really.
In the end, the Norsemen held on to win, 28-20, more than likely ending the thoughts of postseason play for the Vaqueros.