Jaguars lack finish against No. 3 Tigers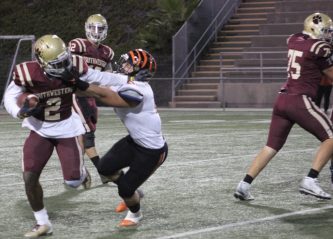 Southwestern sophomore Keylan Chapman rushes against Riverside on Saturday. / photo by Dave Dickens
2019 COMMUNITY COLLEGE FOOTBALL
RIVERSIDE 34, SOUTHWESTERN 12
EastCountySports.com staff report
CHULA VISTA – The Southwestern Jaguars had the Riverside Tigers down at halftime for the first time all season.
The 18th-ranked Jags led third-ranked RCC, 12-7, but the Tigers outscored SWC, 21-6, in the second half for a 34-12 win at DeVore Stadium on Saturday night.
"We had a good game plan to be in the game late and win that way," Southwestern head coach Ed Carberry said. "We decided to play a slow game and that kind of threw them out of sync."
Tyler Saikhon and Davion Johnson had touchdown receptions in the second quarter after trailing 7-0 after one.
Southwestern quarterback Joshua Owen was 24-of-37 for 244 yards.
Owen threw an 11-yard touchdown Tyler Saikhon and a 20-yard strike to Johnson.
"We were making the plays we had to make on both sides of the ball," Carberry said. "We just didn't keep that same tempo in the second half. We kept three-and-outing ourselves and really didn't give our defense time to rest."
Riverside (8-0) outgained Southwestern (5-3) 476 -304. The Jags had just 67 yards on the ground.
The Tigers' Jacob Barlage, a freshman quarterback, accounted for three touchdowns in the third quarter, rushing for two 1-yard scores and throwing a 7-yard touchdown.
Johnson, a freshman from Cleveland, Ohio, had 10 receptions for 159 yards for the Jaguars. It was his most productive game of the season.
"We decided to force it into (Johnson) in some spots," Carberry said. "His touchdown catch was a call by Josh. It was a great throw and 'Speedy' was wide open. The two of them have really made a good connection and the coaches just try and get out of the way."
Southwestern's Atoa Fox had nine solo tackles, including a sack. He had five tackles for loss.
Isaac Wright added eight solo tackles for the Jaguars.
"There were just two or three critical plays we needed to make and we didn't make them," Carberry said.
Terry Wright added four catches for Southwestern, which will travel to face Golden West next Saturday at 1 p.m. It will be the Jags first day game of the season.
"We were winning last year against Golden West but we had a bad snap by a fourth-string long-snapper and they stole one from us," Carberry said.
The season finale is in two weeks against struggling Orange Coast.
"We win the next two games we'll be 7-3 and host a bowl game," Carberry said.
FULLERTON 71, SAN DIEGO MESA 14 – In a National Division Central League game, FC scored 50 in the first half at Douglas Stadium.
The Hornets led 29-0 after one quarter and scored on the first play of the second quarter.
Mesa fell to 5-3 overall and 1-2 in the conference standings.
In the third quarter, the Olympians' Andrew Winner scored on an 8-yard run, while Ranse Garner had the final score of the game with 12:21 left in the fourth quarter on a 4-yard run for Mesa.
Mesa will travel to face Mt. San Antonio at Covina District Field next Saturday at 6 p.m.
EL CAMINO 38, PALOMAR 20 – Palomar sophomore quarterback Rodney Thompson had 252 yards of total offense but the Comets fell to 0-3 in National Division Central League play.
The Comets trailed 14-0 in the first quarter when Johnny Armentrout caught a 36-yard touchdown pass from Thompson.
The Comets scored midway through the fourth quarter as Armentrout had a 13-yard reception from Thompson.
Armentrout had nine catches for 109 yards.
Palomar recovered three fumbles in the game.
Palomar fell to 2-6 overall and will travel to face Cerritos College on Nov. 9 at 6 p.m. before returning home to face San Diego Mesa College at 6 p.m. in the season finale in two weeks.