Griffins earn first victory of season
Updated: November 4, 2019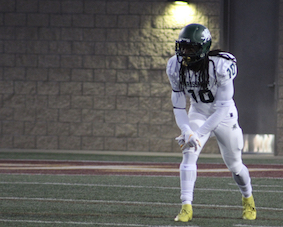 Grossmont College sophomore Tanez Davis. / photo by Dave Dickens
2019 COMMUNITY COLLEGE FOOTBALL
GROSSMONT 27, ORANGE COAST 18
EastCountySports.com staff report
COSTA MESA – The Grossmont College Griffins went on the road to earn their first victory of the season, taking a 27-18 win against Orange Coast College at LaBard Stadium on Saturday evening.
Joseph Perez, Tanez Davis, and Mylik Steen caught touchdown passes for Grossmont, while Griff sophomore Jarius Burnette rushed for a score.
GC freshman Robert Whitehead had two interceptions, while freshman teammate Jayden Tauanuu had a pick.
Grossmont quarterback Joaquin Quintana-McKinney passed for two of the touchdowns, while Sharif Harris-Legree threw the other score.
"Our offense was more productive," Quintana-McKinney said. "We were able to get a run game going. It went pretty smooth for the most part."
McKinney completed just three passes but for 115 yards.
"For the last couple of games, we went into the shotgun to give us a little more time," Quintana-McKinney said. "We were able to get back under center for this matchup and get a little push, which let J.B. do this thing."
Burnette rushed 18 times for 73 yards.
"I would probably say we've beat ourselves in several of our other games," Grossmont freshman offensive lineman Mason Tileia said. "It is the little things that matter so we have to take care of the little things first. Every loss we've learned from. It all starts with us upfront. In the Riverside game, we said, 'something has to change.' We shouldn't miss easy blocks or assignments."
Perez caught a 69-yard touchdown from Quintana-McKinney six minutes into the game.
"We just took advantage of the matchups," said Quintana-McKinney, a sophomore from Serra High. "It was a great feeling to be on the sidelines knowing that we were doing what we were supposed to do. The energy was definitely different instead of playing the blame game. We needed this one."
Orange Coast added a field goal with 3:18 left in the first quarter on a 39-yarder.
Davis had a 44-yard touchdown reception from Quintana-McKinney just 1:40 into the second quarter for a 14-13 advantage.
The Pirates intercepted a pass at the Grossmont 22 and returned it to the 3-yard line where OCC converted the turnover into a touchdown with just under eight minutes to play in the second quarter.
Burnette scored at 12:39 of the fourth quarter to cap a nine-play drive that took 3:23 off the clock and extended the lead to 21-10.
Grossmont scored on its next series, as well, when Sharif Harris-Legree passed to Mylik Steen for a 33-yard touchdown with 9:08 to play, making it 28-10.
"We knew what OCC could do," said Tileia, who played at both Granite Hills and El Cajon Valley high schools. "All week, we were preparing for this. We watched them on film, set goals and we made some adjustments on the offensive line.
"We did what we were supposed to do upfront. If we can block the way we did tonight, we would have more wins instead of 'L"s.
Harris-Legree was 9-of-12 passing for 134 yards.
"One of our objectives this week was to establish our running game and that's why we were so successful," said Harris-Legree, a sophomore. "My confidence level has risen the last couple of weeks and I performed well enough in practice to allow me to get into the game this week. We played solid and I wanted to get this 'W.'
Orange Coast added its second touchdown of the game on an 8-yard run with three minutes left in the game.
Robert Dorame had a sack for Grossmont.
The Griffins will face state third-ranked Saddleback next week.
"I feel like next week is going to be a bigger challenge," Quintana-McKinney said. "Saddleback is a great team on both sides of the ball."