Gauchos impress Griffs; Jaguars upset
Updated: November 10, 2019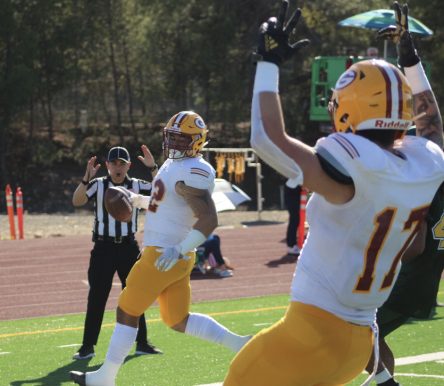 Saddleback scores a touchdown on Saturday. / photo by Dave Dickens
2019 COMMUNITY COLLEGE FOOTBALL
EastCountySports.com staff report
EL CAJON – The unbeaten Saddleback Gauchos (9-0) defeated the Grossmont Griffins, 56-6, in a National Division Southern League game at Grossmont College on Saturday.
Mylik Steen had a 3-yard touchdown reception from Luke Arthur in the fourth quarter for the Griffins (1-8).
The Gauchos led 22-0 after the first quarter and 39-0 at halftime.
Arthur was 7-of-9 passing for 58 yards.
Amari Colbert led Grossmont with three receptions.
Jayden Tauanuu and Anthony Solo both had a team-high eight tackles for Grossmont.
Griffin sophomore Derek Southerland forced and recovered a fumble.
Saddleback outgained the Griffs, 637-152. The Gauchos meet Riverside for the league title next week.
GOLDEN WEST 27, SOUTHWESTERN 20 – The Rustlers stunned the Jaguars despite 276 yards and two passing touchdowns by Southwestern quarterback Josh Owen.
DeAngelo Howard scored on a 13-yard touchdown pass from Owen in the first quarter to take a 7-0 lead just 5:09 into the game.
Golden West tied the game not two minutes later on a 22-yard run.
The Rustlers took a 13-7 lead on a rushing touchdown with 5:14 to go before halftime.
However, the Jaguars got an 85-yard scoring play from Owen to Davion Johnson to tie the game at 13-all.
Golden West led at halftime when it scored on a 19-yard touchdown completion with 24 seconds to go before intermission.
GWC extended the lead to 27-13 on a 63-yard passing score with 1:19 left in the third quarter.
Owen scored on a 3-yard run with 3:44 left in the game.
Keylan Chapman rushed for 15 yards for SWC.
Howard had six catches for 78 yards, while Tyler Saikhon added four receptions for 79 yards for the Jags.
Isaac Wright had four solo tackles to lead the Southwestern defense.
Alex Te'o, Devin Brown, and Sebastian Medina each had a sack for the Jaguars.
MESA 33, MT. SAN ANTONIO 30 (OT) – Mesa College's Thomas Fishburne threw a 25-yard touchdown pass to Daniel Weathers in the first overtime to give the Olympians a 33-30 road win.
Mt. SAC had just kicked a field goal on its possession in the first OT.
Mesa, which led 24-17 at halftime, improved to 2-2, 6-3.
Olympian quarterback Joshua Pisik threw for 229 yards and two touchdowns, including one to Fishburne, who finished with four catches for 80 yards.
Andrew Wimmer caught a 3-yard touchdown in the first quarter from Pisik to tie the game at 7-all.
Sammy Muniz had a 1-yard rushing touchdown in the first quarter to give Mesa a 14-7 advantage.
Raul Reyes had field goals of 34 and 35 yards for Mesa, the second of which extended the Olympian lead to 27-17 with 3:11 left in the third quarter.
Dom McManus led Mesa with eight catches for 87 yards.
Mesa defeats Mt. SAC 33-30 in overtime after a 25 yd pass from WR T. Fishburne to WR Dariel Weathers.

Up next: @ Palomar College on Sat. Nov. 16

__________________#WeAreMesa #SDMesaCollege #GoOlympians @DrRyanShumaker @sdmesacollege @pcacsports pic.twitter.com/fNrpwQzwDd

— SD Mesa Athletics (@sdmesaathletics) November 10, 2019
CERRITOS 68, PALOMAR 49 – Rodney Thompson threw for 219 yards and four touchdowns, while also rushing 20 times for 77 yards and two touchdowns for Palomar.
Kyran Griffin caught a pair of touchdown passes for the Comets, including a 2-yarder from Thompson for a 7-6 lead with 4:47 to play in the first quarter.
Palomar's Wesley Hulzor had a 65-yard interception return in the second quarter that drew Palomar to within 34-21 with 2:42 before halftime.
Tywayne Reed Jr. and Johnny Armentrout had the other receiving scores.
Logan Gamble reeled in team-highs of six passes for 62 yards.
Kameron Camp had 11 tackles, including two sacks for the Comets.