Monarchs, Braves fall in hoop openers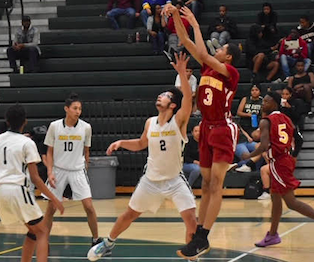 Monte Vista takes a shot over Mar Vista on Tuesday night. / photo by Nicholas James
2019 EAST COUNTY PREP BOYS BASKETBALL
EastCountySports.com staff report
CHULA VISTA – The Mar Vista defeated the Monte Vista Monarchs, 73-62, in the season opener on Tuesday night.
The Monarchs outscored the Mariners 22-14 in the fourth.
Monte Vista trailed just 13-10 after one period but then fell behind 34-26 by halftime.
In other boys' basketball action on opening night, Chula Vista knocked off El Cajon Valley, 55-50.
The Braves are scheduled to meet sixth-ranked San Ysidro on Wednesday.
Santana at San Diego Academy offered no report, while Liberty Charter was scheduled to play at Guajome Park, but no score was reported there, either.
On Wednesday, Helix is scheduled to open the season at Chula Vista at 3:30, while El Capitan travels to face Montgomery at 5.
Helix will be playing all of its games on the road for the second consecutive season because its newly-refurbished gym has no bleacher seating installed.
Foothills Christian may be opening the season at Julian, while Liberty Charter is off to play 1-0 Escondido Charter on the road.