Highlanders back where they belong
Updated: November 23, 2019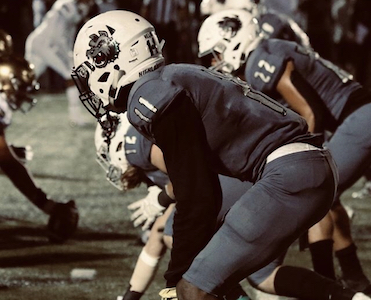 2019 EAST COUNTY PREP FOOTBALL
EAST COUNTY FEARLESS FORECASTER
SAN DIEGO CIF OPEN DIVISION CHAMPIONSHIP
(1) HELIX (10-1) vs. (3) CARLSBAD (10-1)
EastCountySports.com staff report
CHULA VISTA – The top-ranked Helix Highlanders will face the third-seeded Carlsbad Lancers in the San Diego CIF Open Division championship game tonight at 7 at Southwestern College.
Helix has been without the county's top player, Elelyon Noa, since the sixth game of the season.
However, without the record-setting senior running back, who was lost for the season to a left foot injury, Helix sophomore Christian Washington has been nearly as spectacular as his replacement.
In fact, Washington has averaged 8.1 yards-per-carry this season, while Noa was averaging 8.6 per tote.
Noa, meanwhile, had 11 touchdowns before he was lost, while Washington has scored 14 touchdowns. If you had a hybrid of the pair, they have combined for over 2,000 yards on the season.
Carlsbad, the Avocado League champs, defeated second-seeded Cathedral Catholic, 21-20, in their semifinal, behind three touchdowns from senior receiver Cole Wright, one of the county's top players this season.
Both teams are 10-1 this season.
Helix scored all of its points in a span of twenty-two seconds late, late in the fourth quarter of their San Diego CIF Open Division semifinal against visiting St. Augustine on Friday night, advancing to the section title game with a 12-7 victory over the fourth-seeded Saints at Benton Hart Stadium.
Senior Sammy Stewart, already an established solid player for the Highlander varsity basketball team, may end up being remembered in Helix football lore after his 28-yard interception return with 2:01 remaining, actually giving Helix all of its points in a matter of those 22 split-seconds after being shutout for most of the game.
It was a far contrast from a regular-season meeting with Saints at Mesa College when Helix won, 44-38. The Highlanders needed to overcome a seven-turnover night in order to win this one.
Highlander junior Jerry Riggens blocked a punt that was recovered by junior teammate Jaiden Brown at the St. Augustine 12-yard line with under five minutes to play in the semifinal game.
Despite needing seven plays, Helix senior Keionte Scott caught a toss for a sweep that resulted in a 10-yard score to bring Helix within an extra-point from tying the game. However, the Highlanders were called for an unsportsmanlike conduct penalty, which created a 35-yard PAT, which was subsequently no good.
On St. Augustine's ensuing possession, Stewart stepped in front of a third-and-12 pass from the Saint 18-yard line and returned his pick into the end zone.
Helix senior Jeremiah Fletcher had a sack and the Highlander defense held Saints to just 120 yards, including just five yards total on the ground. Scott added an interception.
The Highlanders have won just one of three meetings against Carlsbad – coming in the last meeting between the two schools, a 35-14 decision in 2008.
For the Scotties, the trip to the finals is their sixth-straight title-game berth, including a fifth Open Division appearance. Helix is going for a tenth San Diego Section championship… HELIX, 28-21.