Sultans deliver D4 title game berth
Updated: November 23, 2019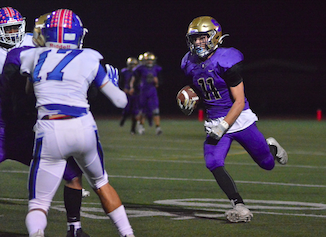 Santana junior Jared Forster runs following a reception on Friday. / photo by Ramon Scott
2019 EAST COUNTY PREP FOOTBALL
SAN DIEGO CIF DIVISION IV SEMIFINAL
(1) SANTANA 35, (4) ORANGE GLEN 14
By Jim Lindgren
Special to EastCountySports.com
SANTEE – If there is such a thing as a season of destiny, the Santana Sultans are enjoying every moment of their 2019 quest.
A talented and deep senior class – with a Temple as the centerpiece – has the Sultans one step away from the first San Diego Section championship in the 54-year history of the school.
Senior quarterback Nathan Temple assured as much, tossing four touchdown passes to lead Santana to a 35-14 win over Orange Glen in the Division IV semifinals on Friday night at Santee Community Stadium.
"I'm ecstatic," Temple said. "I've been dreaming of this since my freshman year. We're going to the show, and we're ready."
Temple completed 12-of-21 passes for 227 yards and touchdown passes to Randy Smith (60 yards), Jared Forster (23 yards) and Dean Landers (16 and 18 yards) to put top-seeded Santana (11-1) into next Friday's (1 p.m.) championship game against No. 2 Serra (10-2) at Southwestern College.
Brooks Moutaw rushed for 141 yards on 15 carries, including a 35-yard TD run, as Santana rolled up 374 total yards and took out a hot team in No. 4 Orange Glen (7-5) by limiting the visitors to 227 total yards – 225 below the Patriots' season average.
"Nate's been great all year," Santana coach Tim Estes said. "That's how he plays every game. He makes the big plays when we need them, and he makes the simple plays to keep drives alive.
"Sometimes it's his arm that saves him. Sometimes it's his legs. Sometimes it's his head. He's such a complete player and performs very well in big games."
Trailing 6-0 midway through the first quarter, Temple heaved a deep pass down the right sideline that hit Smith in stride for a 60-yard score. Nathan Hughes' first of five straight PAT kicks gave Santana a 7-6 lead they would never relinquish.
The Sultans missed a field goal attempt on their opening drive but after two unsuccessful deep routes on the next series to Randy Smith, Nathan Temple finds his man on the same play for a game-tying score with 3:38 left in the first quarter… the PAT put Santana up, 7-6… pic.twitter.com/ZxPByNtuGE

— Ramon Scott (@RamonScottPoker) November 23, 2019
"I loved all of (the TD passes)," Temple said. "But I'd have to say the deep one to Randy was the best. That was the answer back after they had scored, and we never trailed again."
Temple's second TD pass came with 5:23 to play in the second quarter. Moutaw had just reeled off a 32-yard rush, and on the next play Temple fired a strike to Forster on the right flat. Forster then made a move on the defender, broke two tackles and dived into the end zone for the 23-yard score.
EAST COUNTY PREP FOOTBALL: What an effort by Santana junior Jared Forster to get to the end zone and give Santana a 14-6 lead over Orange Glen… less than four to go until halftime. pic.twitter.com/YUS3Hnc4WM

— Ramon Scott (@RamonScottPoker) November 23, 2019
After a three-and-out defensive stand, Temple connected with Smith for a 7-yard gain, hit Moutaw for a 46-yard pickup and then rifled one to Landers for a 16-yard TD and a 21-6 lead with 2:18 to play before halftime.
Michael Richter then posted back-to-back sacks to thwart the Patriots' next possession.
In the second half, Santana's defense held firm on three straight possessions before Temple tossed a perfectly placed lob pass into the end zone that Landers came down with a for an 18-yard TD and a 28-6 lead with 2:04 left in the third quarter.
EAST COUNTY PREP FOOTBALL: Santana junior Dean Landers has his second touchdown reception of the game, giving the Sultans a 28-6 lead over Orange Glen with under two minutes to play in the third quarter… pic.twitter.com/ksn10qnNEy

— Ramon Scott (@RamonScottPoker) November 23, 2019
Less than 2 minutes later, Orange Glen scored on a 38-yard pass from Ethan Villalobos to D.J. Harris that cut the Santana lead to 28-14.
Moutaw's 35-yard TD run with 3:04 to play sealed the Sultans' win.
Give extra credit points to Santana's offensive line of Jordan Ortiz, Luke Simanek, Andrew Golembiewski, Adrian King and Jayce Lynch.
Big belly crew getting it done @SantanaSultans @LukeSimanek pic.twitter.com/afKkXxQyGI

— Vavrinec (@vavrinec69) November 23, 2019
The defense was pretty special, too. Kudos to Cameron LaRiccia, Dawud Saddler, Forster, Simanek and Richter.
Santana will be playing in its third championship game in search of its first title. The Sultans lost to La Jolla Country Day, 38-24, in the 2016 Division IV championship game.
Orange Glen won the Division V section championship last year, beat Locke in the Southern California Division 6-A final before losing to San Francisco Lincoln in the state division title game in San Francisco.
Orange Glen tailback Cael Patterson entered the game as the No. 9 all-time leading rusher in the section with 5,508 career yards. He had 2,496 rushing yards this season, with 3,001 total yards and 37 touchdowns.
Patterson was effective in the first half, rushing for 100 yards, including a 2-yard TD to open the scoring. But the Sultans limited him to 26 yards in the second half. Patterson finished with 126 yards on 26 carries to give him 5,634 career yards in only 30 games over 2½ seasons. That puts him No. 7 in section history.
EAST COUNTY PREP FOOTBALL: Santana 21, Orange Glen 6 (HT) … After a big run by Patterson to the 1 (video) and first TD of the game for the Patriots, the Sultans have stopped the Orange Glen attack considerably… Senior Nathan Temple passed for three TDs in the first half. pic.twitter.com/pUjK7krZGw

— Ramon Scott (@RamonScottPoker) November 23, 2019
At 12:58 a.m. Friday, Patterson became the second of 10 children in his family. His father, Jason Patterson, is Orange Glen's head coach. Jason, 48, and wife, Tara, 43, welcomed their 10th child into the world.
While Dad was ecstatic over the successful birth of Isaac, he was a bit miffed over his team's execution in the semifinals.
"I think we let one get away, for sure," Jason Patterson said. "We did not play well enough to get the victory, and Santana did play well enough to win.
"We missed plays. We missed some touchdowns we should have had."
Villalobos finished with 119 passing yards, completing 14-of-21 attempts. Harris had 10 receptions for 91 yards. Villalobos was sacked four times – three by Richter who now has 17.5 sacks and once by Ryan Emerson-Mowery.
This was only the third time these schools have played and the first since 1968.
Temple has now thrown for 2,348 yards and 34 TDs this season. He was 15-of-26 passing for 210 yards and two TDs when Santana beat Serra, 31-14, in Week 2. Smith caught seven passes for 143 yards and two TDs, and Moutaw rushed for 89 yards and a TD against the Conquistadors.
In his junior season, Temple sustained a broken collarbone in a loss to Serra but came back to lead the Sultans to the semifinals. Santana lost that game to eventual section and state champ San Diego.
"It's amazing to get back to the finals," Estes said. "It doesn't get any better than that … until we win a final."
Destiny calling? We'll find out next Friday.
SANTANA 35, ORANGE GLEN 14
Orange Glen 6  0 0 8 – 14

Santana     7 14 7 7 – 35
OG – Cael Patterson 2 run (run failed)
S – Randy Smith 60 pass from Nathan Temple (Nathan Hughes kick)
S – Jared Forster 23 pass from Nathan Temple (Nathan Hughes kick)
S – Dean Landers 16 pass from Nathan Temple (Nathan Hughes kick)
S – Dean Landers 18 pass from Nathan Temple (Nathan Hughes kick)
OG – D.J. Harris 38 pass from Ethan Villalobos (Cael Patterson run)
S – Brooks Moutaw 35 run (Nathan Hughes kick)