Monarchs easily weather Storm
Updated: November 26, 2019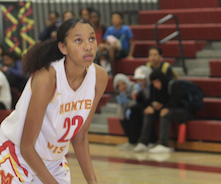 JOURDAN BARBER, of Monte Vista. / photo by Dave Dickens
2019 EAST COUNTY PREP GIRLS BASKETBALL
EastCountySports.com staff report
MONTE VISTA 65, HIGH TECH SAN DIEGO 4 – The Monarchs certainly had a record-setting defensive effort against the Storm on Monday.
Senior captain Vanessa Braun made her season debut in the lineup and scored 10 points and grabbed 11 rebounds for Monte Vista, which improved to 2-2.
"I was excited to be able to play again after missing two games and was eager to help my team again and pressure defensively," Bruan said. "We are a solid team, but I believe that having Meadow (Delino) back as one of our main scorers will definitely help us in our upcoming games.
"This was a good win for our team, I'm very proud of us, but this game also allowed us to highlight what we need to improve on. I was able to score thanks to Destiny Smith, Samantha Gonzalez, and Jaelynn Bocala, who played very well tonight despite injuries and an incomplete roster."
Gonzalez had nine points in the first quarter and finished with 18 points for the contest, including a pair of three-pointers, while Smith added 11 points, including a three-pointer, and made four steals.
"Destiny and Sam are stepping up and leading the offense," Jimenez said.
Sophomore Pulega Asaou had six points for the Monarchs, as did senior teammate Jourdan Barber, who also grabbed seven rebounds.
Senior captain Heidy Romero also knocked down three field goals for six points. She also added five steals.
"The girls came out defensively with some spark," Monte Vista head coach Sabrina Jimenez said. "Having Vanessa back really ignited our defensive push and forced HTHSD into lots of turnovers. All nine of our players were able to score tonight, and our bench got some valuable minutes."
SOUTHWEST (EC) 62, EL CAJON VALLEY 36 – The Eagles led 22-5 after one quarter and 38-16 at halftime in a Monte Vista Showcase game.
The Braves outscored Southwest, 17-11, in the third quarter.
The two teams are both expected to be contenders for the championship in Division IV this season.
It was the first loss of the season for the Braves in three starts.
CALIPATRIA 29, MOUNTAIN EMPIRE 23 – The Hornets led 17-9 at halftime in the Division IV Showcase game.