Vaqueros win in OT; Pack edge Eagles
Updated: November 26, 2019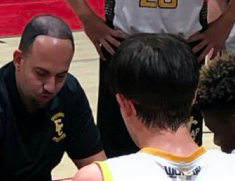 2019 EAST COUNTY PREP BOYS BASKETBALL
EastCountySports.com staff report
LAKESIDE – The El Capitan Vaqueros won their season opener against the visiting Scripps Ranch Falcons, 48-47 in overtime, at the Jeff Armstrong Memorial Tournament on Monday.
El Capitan knocked down critical free throws in overtime to seal the win, which was the first for new El Capitan head coach Elias Totah, the former West Hills High player, turned assistant coach, who was mentored by the man who this annual preseason tournament is now named after.
El Capitan senior Jake Pfitzner scored 18 points, including 8-of-10 from the line, grabbed six rebounds, made three blocks, and recorded three steals. He also had a pair of three-pointers.
"I'm hoping I can make a name for myself this season," Pfitzner said. "This year, coach Totah are I are going work so I can achieve my dream of playing college basketball. I'm trying to impress not only my family but college scouts."
The Vaqueros jumped out to a 16-11 lead on Scripps but eventually, the game came down to the wire in regulation. as the teams remained closed throughout.
"I was proud of all of our guys from top-to-bottom," Totah said. "There was a ton of contributions. We didn't shoot the ball particularly well, but we battled. Scripps Ranch is a very disciplined and well-coached ball club.
"We wanted to slow down their tempo and make them work for possessions, and we did that. Proud of our guys and our coaching staff."
El Capitan was down two with 5.5 seconds left in regulation. Harrison Morton made a crisp pass to Daisean Desinor in the transition to tie the game as time expired.
"Coach Totah came In and said he has high expectations for this group and he is an amazing young coach that we all think can take us to the next level," said Desinor, a sophomore.
Desinor had a key layup on a finish in overtime and made key defensive stops to help win the game, according to Totah.
Senior Blaize Sais, a senior, had eight points, as well.
El Capitan will be on the road at Southwest (El Centro) on Wednesday night at the Armstrong Memorial. Tip-off is set for 6 p.m.
"The first win hasn't sunk in yet," Totah said. "Thinking about Coach (Armstrong) tonight. Shed some tears on my drive home. None of this is possible without him. He got me ready for this moment. It all came full circle. We have had a ton of preparation coming into the season. And this is a great win for our program, a big step in the right direction after tonight. Proud of our players."
WEST HILLS 76, GRANITE HILLS 68 (OT) – West Hills' KYLE DOBYNS tied a Grossmont Conference record with 17 free throws made, as the Wolf Pack outlasted the Eagles in overtime at the Jeff Armstrong Memorial Tournament on Monday.
Dobyns scored 32 points, including 17-of-18 from the charity striple, to lead the Wolf Pack, who put together a big fourth-quarter rally after the Eagles ran it up in the third quarter.
The Eagles led by five at halftime and made a big comeback by outscoring the Pack 23-11 in the fourth quarter.
Dobyns made 17-straight free throws, including 10 in the third quarter, as West Hills outscored the Eagles, 25-8, out of intermission to take a 12-point lead into the fourth.
BRENDEN GREENE added nine points for West Hills, while teammate CASH CREIGHTON had eight points.
West Hills junior RYAN MAILIEUX, in his first varsity appearance, didn't score until overtime for West Hills, but he had a big three-pointer right when he entered the game about a minute into overtime.
"No hesitation, he caught it, had a quick release and drained it," West Hills head coach TIM BARRY SAID. "That just made our bench go crazy and we felt like it was our game after that."
Dobyns made a pair of field goals in the extra session, while Greene made 3-of-4 free throws in OT.
The Eagles went 0-for-4 from the line in overtime.
Dobyns scored 23 points in the second half despite being saddled with some foul trouble.
"He really led us in the second half," Barry said. "We had 10 guys and five fouled out.
MCKAY ROBERTS led Granite Hills with 22 points, including five three-pointers.
We played hard obviously it didn't come out how we planned, but everyone fought hard and I liked our run at the end when we were down," Roberts said.
JOHN YAKOU had 19 points, including seven points in the fourth.
JOHN VRZICH haded 16 points, including nine in the fourth quarter.
"It was a crazy game," Granite Hills head coach DAN DUFFY said. "There were a lot of fouls called on both sides. Give West Hills credit, they made big free throws down the stretch and we did not."
GROSSMONT 76, SOUTHWEST (SD) 38 – The Foothillers won their first game in two starts as they doubled up the Raiders.
Grossmont drew rave reviews against the visiting Division III champs from last season.
Grossmont had Southwest on a running clock in the fourth quarter.
DEL NORTE 75, STEELE CANYON 42 – The Cougars got scoring contributions from senior Antoine Walker, sophomore Arthur Simpson, and junior Joey Cleaves but Steele Canyon fell at the Grossmont Tournament.
OCEANSIDE 78, SANTANA 54 – The Sultans fell to 1-2 after falling to the undefeated Pirates.
Oceanside (2-0) led 22-7 after one quarter and 44-21 at halftime.
The Sultans outscored the Pirates, 16-11, in the fourth quarter.