Vaqueros, Monarchs, Patriots all win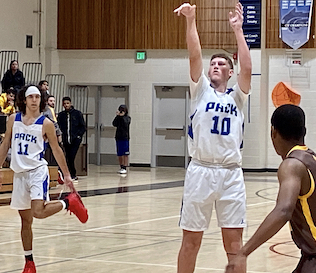 West Hills' Kyle Dobyns at the line on Wednesday night. / photo by Dave Dickens
EAST COUNTY PREP BOYS BASKETBALL
EastCountySports.com staff report
EL CENTRO – The El Capitan Vaqueros made the trip to El Centro for their Jeff Armstrong Memorial Tournament game and they came back home with a 65-43 victory over the Southwest Eagles on Wednesday.
The Vaqueros had four players in double figures in this one.
El Capitan shot 52 percent from the field, including 63 percent from three-point range, getting to the foul line 25 times.
Vaquero senior star Jake Pfitzner had 22 points on 6-of-12 shooting, five rebounds, two assists, two steals, and a pair of blocks.
Senior Blaize Saiz contributed 13 points on 4-of-7 shooting, 6 steals, two rebounds, and two assists for El Capitan.
Vaquero senior Jaqori Harris had 11 points on 4-of-6 shooting, four rebounds, three assists, four steals, and a block.
Sophomore Daisean Desinor contributed 11 points on 4-of-4 shooting for El Cap
"A well-rounded performance and a ton of contributors," El Capitan head coach Elias Total said. "I was pleased with our effort late in the second half. Southwest was only down two with five minutes to go in the third quarter and I felt like we weren't playing with enough spirit. I knew we could hit another gear."
The Vaqueros led 28-23 at halftime but outscored the Eagles, 17-10 in the third quarter.
"Our guys answered the call," Totah said. "Sparking a second-half run to end the game with a 20-plus point advantage. Southwest was a scrappy bunch and we managed to lean back on our identity, which is being a potent defensive team.
El Capitan improved to 2-0, while Southwest fell to 0-4.
The Vaqueros will host Bonita Vista (2-0) on Friday at 6 p.m.
"Not easy driving an hour-and-a-half to El Centro and win convincingly," Totah said. "Tells us a lot about the direction we are headed."
MONTE VISTA 69, HILLTOP 64 – Monte Vista's Ivan Maynard scored 18 points, including eight in the fourth quarter, as the Monarchs defeated Hilltop in the Division 4 Showcase Tournament on Wednesday.
The Lancers led 37-30 at halftime but the Monarchs rallied to tie the game at 49-all after three quarters.
Sirr Young had seven points in the third quarter, including a three-pointer, to finish with nine points.
Both teams are now 3-1.
Niamiah Alston led Monte Vista with 16 points, 12 rebounds and five steals.
"Niamiah played great, "Monte Vista head coach Mike Tully said.
Cameron McKan had nine points for Monte Vista, while teammate Deron Whitley added seven points and three assists
"We played very hard," Alston said. We're getting better each game and getting closer as a team and when we come out with energy, we play very well. We just need to work starting off the game with that same energy."
Alston and McKan both had a pair of buckets in the fourth quarter.
"This is when we really start believing in ourselves and realize that if we don't work hard on defense, we're gonna lose and we aren't trying to lose."
CHRISTIAN 45, DEL ORO 41 – Christian High senior Kobe Sanders led the way again for the Patriots, however, Vincent Signorelli, a 6-foot point guard, chipped in eight points, had a big defensive rebound and sank two subsequent free throws in the fourth quarter with five seconds left to seal the win at the San Diego Regional Rumble at Madison High.
"It was a thrilling experience," said Signorelli, a who had a three-pointer in the first and third quarters. "I haven't been shooting very well in our first two games so for me to hit those shots gave me some more confidence and I felt really good about those shots.
The score was tied at 15-all at halftime as the defenses were solid early. The score was tied 31-all after three quarters.
Sanders scored 14 of his team-high 18 points in the second half.
Patrick Roberts added eight points for the Patriots.
And for our new additions to our team, I love both Jake and vincent and I feel like we are way better this year. And once we start playing our game in full harmony, we are gonna be really dangerous. Vinny
The Patriots play again on Saturday at Madison High, but the opponent hasn't been determined yet.
SERRA 87, WEST HILLS 67 – Serra won its first game in three starts, beating the Wolf Pack at the Jeff Armstrong Memorial Tournament presented by Horsman Automotive.
Conquistador senior guard Alex Bell scored 43 points as Serra (1-2) broke open a four-point game in the first half to lead 41-27 at halftime.
Kyle Dobyns had 20 for the Wolf Pack, which fell to 1-1.
"I thought we hung tough with a tough matchup for a half," West Hills head coach Tim Barry said. "Serra is very athletic and Bell is a top-notch guard in the county. I'm proud of my boys' effort tonight.
Captain Jayden Moreno, a senior guard, added 14 points for West Hills, eight of which came in the fourth quarter.
West Hills junior Cash Creighton had a pair of three-pointers en route to 10 points.
Junior Brendan Greene had a three-pointer in the fourth period and finished with nine points.
Serra led 20-12 after one quarter. Bell finished with six three-pointers, including four in the first half.
West Hills will face No. 4-ranked Torrey Pines next Monday at 7 on the road in an Armstrong Memorial Tournament match-up.
GROSSMONT 68, DEL NORTE 60 – The Foothillers won in the Grossmont Tournament to improve to 2-1.
Grossmont led 35-32 at halftime after the score was tied 16-all after one period.
The Foothillers opened up a bigger lead with a 14-4 push in the third quarter to lead by 13 heading into the fourth.
SANTA CLARITA CHRISTIAN 103, FOOTHILLS CHRISTIAN 99 (OT) – The Cardinals of Canyon Country defeated the third-ranked Knights at the BattleZone Tournament at Centennial High in Corona.
The Knights led 48-40 at halftime.
Santa Clarita Christian was down 16, then down eight with two minutes left in regulation.
Foothills Christian senior Yassine Gharram had 34 points.
The Knights fell to 1-1.
UNIVERSITY CITY 67, STEELE CANYON 62 – The Cougars rallied with a 16-9 third quarter to get back in the game but fell to 0-4 in the tournament contest played at Olympian High.
University City improved to 3-0 with the win.
O'FARRELL CHARTER 71, EL CAJON VALLEY 47 – The Braves dropped a home non-league contest on Wednesday.