Vaqueros take early test versus Barons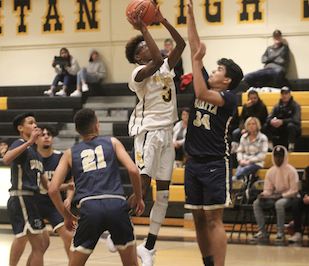 El Capitan senior Jaqori Harris goes up against Bonita Vista on Friday. / photo by Dave Dickens
2019 EAST COUNTY PREP BOYS BASKETBALL
EastCountySports.com staff report
LAKESIDE – The Bonita Vista Barons defeated El Capitan, 80-55, on Friday, handing the Vaqueros their first loss of the season in three starts.
The Barons are off to an undefeated 3-0 start.
Senior Jake Pfitzner scored 24 points, including three three-pointers, and had eight rebounds for El Capitan, which trailed 18-7 after one quarter.
Pfitzner was 8-of-12 from the field.
"We struggled with was transition defense and they killed us on fast-break points which were mainly the reason why we lost," Pfitzner said. "As a team, we need to get better at handling pressure and finding open guys and even getting around defenders that are very aggressive, which leads directly into some positive things.
"I feel like we showed heart. Just playing a team like that with so much energy is just preparing us for other teams similar to them. We shot pretty well as a team."
El Capitan had a strong second quarter, as the teams went to the locker room with the Barons still up, 36-25.
It was the third period in which Bonita Vista put the game away with a 25-12 scoring edge.
Senior Jaqori Harris had 11 points, four blocked shots, two steals, and three rebounds for El Capitan
Sophomore guard Daisean Desinor had seven points and four rebounds for the Vaqueros
Junior guard Rj Lugtu both had seven points for El Cap.
DJ Sanders had 20 points, DM Sanders had 14 points, and Vince America finished with 10 points to lead the Barons.
El Capitan is on the road taking on San Marcos in the Armstrong Memorial event on Monday evening with tip-off set for 7 p.m.
GREAT OAK 64, FOOTHILLS CHRISTIAN 58 – The Foothills Christian varsity basketball team continued play at the Battlezone event at Centennial High, in Corona, but the third-ranked Knights were dealt their second loss of the season.
Foothills Christian takes on San Ysidro at the Battlezone on Saturday in a matchup between two of the top six teams in the preseason county media poll.
WESTVIEW 58, GROSSMONT 48 – The Wolverines defeated the Foothillers, who fell to 2-2.