BOYS: Vaqueros, Monarchs, Pack win
Updated: December 5, 2019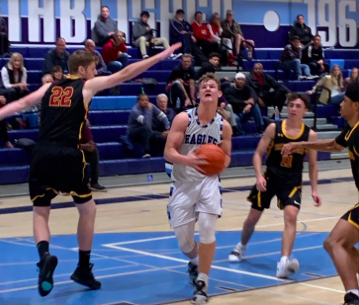 Granite Hills' McKay Roberts drive to the hoop against Torrey Pines on Wednesday. / photo by Daevion Rogers
2019 EAST COUNTY PREP BOYS BASKETBALL
EastCountySports.com staff report
LAKESIDE – El Capitan senior Jaqori Harris scored 28 points on 12-of-16 shooting to lead the Vaqueros to a 56-53 win over visiting Mt. Carmel in a Horsman Automotive Jeff Armstrong Memorial tourney win on Wednesday evening.
Harris also grabbed five rebounds, handed out four assists and made three steals as the Vaqueros improved to 3-2.
"Jaqori Harris has himself a night," El Capitan head coach Elias Totah said. "He was in attack mode the entire game on the offensive end, and really started to get into a rhythm into the third quarter. I'm very proud of him. He's one of the most competitive players I have ever coached. He wants to win, and we want guys like that in our program with that mentality."
The Vaqueros trailed 22-20 at halftime but came out blazing in the third quarter, outscoring Mt. Carmel (2-2), 26-14, in the period.
Senior Blaize Saiz added 12 points on 5-of-11 from the field and recorded a pair of steals for the Vaqueros.
Senior Jake Pfitzner also had 12 points for EC, while recorded seven rebounds. He also had two blocked shots, an assist and a steal.
"Lots of contributors tonight," Totah said. "Jake Pfitzner and Blaize Saiz put on great performances, as well. Blaize gave us an offensive presence tonight that we were very pleased with. A good win for our ball club."
El Capitan shot 47 percent from the field and had 9 steals on the defensive end as a team.
MONTE VISTA 68, CHULA VISTA 39 – Niamiah Alston scored 13 points and grabbed nine rebounds to help the Monarchs bounce back from a tough two-point loss to Fallbrook last time out.
"I play hard and did what I know I could do for the team," Alston said. "I just came out and played hard the paint was there for me all game, especially when my teammates would work the ball around and get me wide-open looks.
"The Fallbrook (game) was a heartbreaker. When you are playing hard, afterward you think of every little thing that could have possibly changed the outcome.
"Against Chula Vista we played better as a unit. We were communicating with each and we were all the same page. We play hard as a unit which allows us to get going. individually
Devon Whitley added 12 points and five steals for Monte Vista, which improved to 4-2.
Ivan Maynard also finished with 12 points for the Monarchs.
Anthony Sandoval had eight points and three steals for MVHS, while teammate Dyvarre Dawson also contributed eight points for Monte Vista.
Sirr Young handed out five assists for the Monarchs, who will go up against the Crawford Colts at home on Thursday night at 7.
"Sirr controls everything on the court and makes great passes," Alston said. "One thing we do is play hard and that's what's key."
The Spartans fell to 2-5.
WEST HILLS 75, SOUTHWEST (EC) 44 – The Wolf Pack went down to the desert and built on a good performance from Monday's Torrey Pines game by winning, 75-44, over the Southwest Eagles.
Led by Kyle Dobyns' 27 points and eight rebounds, West Hills evened its mark at 2-2 on the season by defeating the winless hosts. The Wolf Pack led 21-13 after one period and 41
"I thought that we were excellent at moving the ball around when they were in a zone defense," said Dobyns, who scored 18 points in the first half, including a three-pointer in the first quarter. "We also played great defense which caused us to have multiple fastbreak points. We were able to run good plays which got me open shots.
"I'm not so worried about averaging a certain amount of points, I'm more worried about winning. Our goal as a team is to win league."
Jayden Moreno also had a strong performance with 22 points and seven rebounds for the Wolf Pack. He canned a pair of three-pointers in the second half.
"Kyle and I go out on the court with the same energy no matter what team we play," Moreno said. "We are always trying to get the dub."
West Hills point Guard Cash Creighton ran the show with five points and seven assists, including a three-pointer in the second quarter, while freshman teammate Luke Gibson got his first varsity start, chipping in five points.
Next up for the Pack is the crosstown showdown against Santana on Friday night at West Hills at 7 p.m.
TORREY PINES 70, GRANITE HILLS 49 – The Eagles gave the sixth-ranked Falcons some fits early, but the visitors went on to hand Granite Hills a loss at the Horsman Automotive Jeff Armstrong Memorial Tournament.
The Eagles took a 7-4 lead early, but the Falcons used an 8-0 run in the middle of the first quarter and led 21-15 after one quarter.
The Falcons opened up a 41-26 lead at halftime.
The Eagles put together a 6-0 run in the last two minutes of the third quarter to pull to within 56-39.
The Falcons won their second straight to move to 4-1 on the season.
Brandon Angel had 20 points for Torrey Pines, including 18 in the first half, while teammate Diego Campisano added 16 points for the contest.
The Falcons committed just eight turnovers in the game.
Torrey Pines will play in the Armstrong Memorial Tournament this Saturday at West Hills High.
PATRICK HENRY 72, VALHALLA 23 – Patrick Henry's Aiden Alfino was deadly from downtown, helping the Patriots light up the Norsemen.
Aiden Alfino tracker: 15 points, 5/6 3PT Field Goals pic.twitter.com/ScNQKVfva6

— Chase Osborn (@thechaseosborn) December 5, 2019
BREAKING: Aiden Alfino with 20 points, 6 three-pointers and now 23 with 7 made threes in the time it took to type this pic.twitter.com/wQmIgN88l1

— Chase Osborn (@thechaseosborn) December 5, 2019
Aiden Alfino netting it from deep right now 31-8 Patrick Henry with 5 left in the 2nd pic.twitter.com/BoACsVIifb

— Chase Osborn (@thechaseosborn) December 5, 2019
Kai Jessie to Aiden Alfino for 3, Patriots up 24-5 with 7 left in the 2nd quarter pic.twitter.com/cqSQicbi2E

— Chase Osborn (@thechaseosborn) December 5, 2019
Patrick Henry had a dominant lead at the half, 41-11, as Alfino and former Helix High player Kai Jessie were among the leading scorers with 17 and 6 points, respectively.
Jesse finished with 12 points.
The Patriots got off to a fast start, going up 18-1 with two minutes to go in the first quarter.