Highlanders seek return to state final
Updated: December 6, 2019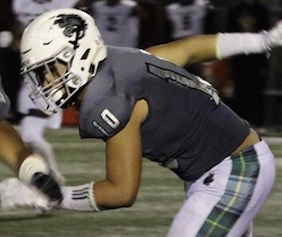 Helix senior linebacker John Carroll / Ally Ann Photography
2019 EAST COUNTY PREP FOOTBALL
EAST COUNTY FEARLESS FORECASTER
CIF STATE SOUTHERN CALIFORNIA REGIONAL
SIERRA CANYON at HELIX
By Ramon Scott
EastCountySports.com
LA MESA – If not for a flukey season-ending foot injury on a non-descript tackle halfway through the sixth game of the season, Helix High senior Elelyon Noa would've likely been the county's top award recipient this postseason.
Noa, who announced his commitment to Utah State on Friday, will miss the Highlanders' CIF State Southern Californian Regional Division I-AA playoff bowl game against Southern Section Division 2 champ Sierra Canyon tonight at 7:30 p.m. at Benton Hart Stadium, but the Scotties have shown that they are able to win without the section's best player.
Helix (11-1) will be riding a 10-game winning streak into the contest following its 28-21 San Diego Section Open Division title win over Carlsbad on Nov 22, which means the Scotties will be the only one of the two teams coming into the game off a bye.
The Highlanders rightfully finished as the unanimous No. 1-ranked team in the final San Diego County media poll that was released on Tuesday.
The Trailblazers, meanwhile, are coming to La Mesa with an 11-game win string following their 35-7 section championship game victory over Chaminade last Friday. Sierra Canyon was the Gold Coast League champs for the second consecutive season.
Sierra Canyon is no stranger to the postseason bowl scene. The Trailblazers are making their second-straight regional appearance and fifth overall.
The winner of the bowl matchup will face either Central High (13-0), of Fresno, or Oak Ridge (10-2), of El Dorado Hills, in the CIF Division I-AA State Championship Bowl at Cerritos College on Friday, Dec. 13, at 8 p.m.
The I-AA Division is the second-highest tier of postseason competition in the CIF. The state's Open Division championship features California superpowers De La Salle (12-1) and St. John Bosco (12-1)  in an already determined elite division state title game on Dec. 14.
Sierra Canyon junior quarterback Chayden Peery, a three-star recruit, has thrown for 2,885 yards this season (206 yards-per-game) and 17 touchdowns with just one interception.
Senior wide receiver D.J. Harvey, another three-star prospect, has 74 receptions for 1,332 yards and six touchdowns this season, while junior Donovan Williams also has six touchdown receptions this season for SCHS.
Trailblazer junior running back J.D. Sumlin has rushed for over 800 yards and 12 touchdowns this season but the team also had two other backs who have rushed for over 600 yards this season, and another that has cashed in on eight of SC's 35 rushing touchdowns.
Perhaps more impressively than the Trailblazers' offensive success is the numbers put up by the Sierra Canyon defensive unit, which recorded 59 sacks this season, including 12 each by senior Zach Thannum and sophomore Caden Harman.
Sierra Canyon has a pair of linebackers that have combined for over 225 tackles this season.
But the Highlanders have an offense that doesn't take up much time in a conventional pocket. Helix looks to get the ball into the hands of its playmakers quickly, letting their speed players do the work.
Helix sophomore running back Christian Washington is already on a career path to be one of the best backs the program has ever produced. Starting in place of injured record-setting superstar Elelyon Noa, who suffered a season-ending foot injury just six games into the season, Washington has been nearly his equal, rushing for over 1,110 yards (8.0 yards-per-carry) and 15 touchdowns.
If you molded the duo into one Helix superback, the pair have combined for nearly 2,200 yards on the ground and 26 rushing touchdowns.
But Helix has another back with similar production in Army-bound senior Delshawn Traylor, who has rushed for over 500 yards and seven touchdowns. Like the other backs, Traylor also averages over eight yards-per-carry.
The balanced success surely is a reflection of one of Helix's most stellar offensive lines in program history, led by juniors Shawn Martinez and Noah Viloria. The underclass presence shows that the Highlanders' strength in the trenches will continue next season, as well.
Highlander senior receiver Keionte Scott is the team's other major offensive threat with 36 receptions for 563 yards and 10 touchdowns.
Helix senior receivers Timothy Christopher and Jahari Hill both have three touchdown receptions on the year.
The man responsible for getting the ball to the wideouts was a man who maybe was without a plan before the season started.
Senior Kamryn Brown went from a preseason scout team quarterback to the team's starter just one week before the start of the regular season.
The move proved to work wonders for masterful head coach Robbie Owens, who guided the Scotties to their third Open Division championship – and second under Owens – since the division's inception in 2013.
While not a dominating commodity, Brown, who appeared as if he would continue as an offensive threat at receiver coming into 2019, has been the playmaker the Highlanders have needed taking a majority of the snaps for an ever-flexible offense, throwing for over 1,400 yards (over 15 yards-per-completion) and 16 touchdowns.
Brown's production may subtly determine Helix's chances in the state division semifinal against the 'Blazers since more than just a run-heavy game may be needed against a similarly elite opponent.
Helix has the necessary components on defense to neutralize Sierra Canyon's terrific offense.
Whenever the Scotties have encountered a moment of doubt en route to their victories, the tide has been changed multiple times with big plays by the defense.
The Highlanders have 12 interceptions this season, led by Scott's four.
Helix senior Jeremiah Fletcher has recovered three fumbles, forced two fumbles and has an interception, while senior John Carroll, who had a pair of interceptions this season, is a sure candidate for county defensive player of the year. Traylor, meanwhile, is also an elite defensive player, recognized as one of the best tacklers in the section.
The Trailblazers enter the game as the ninth-ranked team in the state while the Highlanders are tenth, however, the Highlanders were awarded the home-field advantage.
The teams had a common opponent this season in Oaks Christian, of Westlake Village.
The Highlanders defeated Oaks Christian 42-17, while Sierra Canyon fell to Oaks Christian, 21-14, for its only loss of the season.
Oaks Christian, meanwhile, knocked off Chaminade, the 'Blazers' opponent in last week's Southern Section D2 final. Chaminade is a team with an offense similar to the Scotties.
This version of the Highlanders could advance and become the second Helix team to win a state banner… Helix 21, Sierra Canyon 20.