Oceanside back among county elite
Updated: December 1, 2019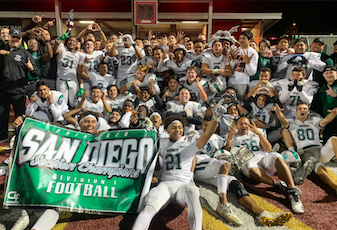 Oceanside Pirates following the championship game.
2019 PREP FOOTBALL
SAN DIEGO CIF DIVISION I CHAMPIONSHIP
OCEANSIDE 28, LINCOLN 10
By Thomas Ringer
Special to EastCountySports.com
CHULA VISTA – The powerful Oceanside Pirates took the San Diego Section CIF Division I championship game and ran with it, defeating the Lincoln Hornets, 28-10, at Southwestern College on Saturday night.
The Hornets had been favorites coming into the game although the Hornet defense was no match for Kavika Tua and the Oceanside Pirates powerhouse offensive unit.
The Hornets won the toss and deferred giving the Pirates the ball. The Pirates drew first blood in this contest.
After a pair of forced punts, the Pirates got the ball in their hands.
A pass for 35 yards got the Pirates inside of the Lincoln red zone.
After a couple of short plays, on second-and-goal, Tua, a junior running back, took a sweep to the right to the house to put seven on the board.
The result was a great feeling for the Pirates until the Hornets had answered the call almost immediately on the next drive.
Senior wide receiver Keyshawn Smith led the charge in getting the Hornets back in the fight with a terrific reception and more yards after the catch to give the Hornets great field position.
The play set up slotback Benjo O'Brien, who ran the ball in to tie the game at 7-all. The score remained tied all the way to halftime.
What really changed the momentum of the ball game had been junior defender Shawn Ramsey.
Ramsey recovered a fumble for a 65 yard return to make the score 14-7.
The Hornets would answer back with a field goal, though it would be their final points of the game.
The Hornets had become more tired when Tua answered again with a breakout run for 45 yards to add on another seven to the Pirates' efforts.
Finally, after two pairs of turnovers for each football team had taken place, the Pirates finally capitalized.
The Hornets connected on a post route to junior receiver Tyrell Bellmon for a 45-yard reception that ended with the final points of the game.