Bucs get early revenge on Scotties
Updated: December 7, 2019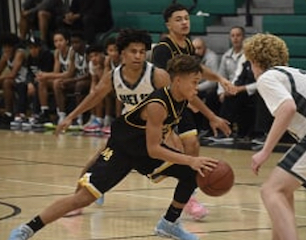 Mission Bay tries to beat the Helix defense on Friday night. / photo by Nicholas James
2019 EAST COUNTY PREP BOYS BASKETBALL
MISSION BAY 53, HELIX 44
By Nicholas James
Special to EastCountySports.com
CHULA VISTA — The Mission Bay Buccaneers beat the Helix Highlanders, 53-44,  at the Hilltop Tournament at Hilltop High School on Friday night
This was the second meeting of the season for both teams, as they last played one another on Nov. 22. The Highlanders defeated the Buccaneers, 63-50.
Helix (2-2) came into the game riding a two-game win streak record after defeating Sweetwater High School on Nov.23.
Mission Bay (3-2) looked to start a winning streak after beating Patrick Henry on Nov. 30.
Mission Bay began the game hot after scoring eight straight points to open up the first period, including back to back three-pointers. Helix came back with a bucket to stop their early spark but could not capitalize on their defensive stops.
Mission Bay came back with a free throw and a three-pointer to push their lead to double digits midway through the period.
The Highlanders would call a timeout after a layup pushed Mission Bay's lead to 16 with four minutes left in the game.
Helix came back with seven points, including a three-pointer towards the end of the first period, to trim their deficit down to 11 points and trailed 22-11.
The opening bucket of the second period brought the Buccaneers back to within a single-digit deficit. A transition bucket followed by the free throw rejuvenated Helix and brought them within six points.
Mission Bay broke their scoreless run with a three-pointer. They had not scored a point since the end of the first period, as they struggled to find open shots and opportunities.
Back and forth series by both squads kept the lead for the Buccaneers under double-digit until a three-point play gave Mission Bay a 12-point lead heading into the final two minutes.
Mission Bay would go into halftime with a 33-20 lead.
The third period would see both teams trading baskets until Mission Bay pushed the lead to 16, the largest margin between the two teams since the first period.
A buzzer-beater three-pointer cut Mission Bay's lead to 13 points heading into the fourth period.
The fourth quarter opened up with Helix converting on a fast break basket to open up a comeback by the Highlanders.
Helix would cut their deficit down to nine points with a minute and a half remaining in the fourth period.
Mission Bay, however, would push the lead back to double digits when the Buccaneers would force Helix to foul them with less than a minute in the fourth period to take the win.
The Buccaneers" next game is against Eastlake High at the Hilltop Invitational at Hilltop High School on Dec. 7.
Helix will face Canyon Crest Academy at the same tournament.