Vaqueros can't foil Hornets' debut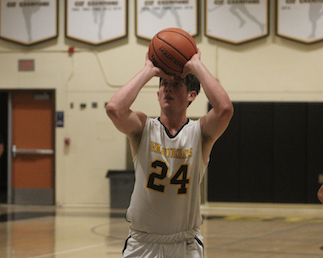 El Capitan senior Jake Pfitzner / photo by Dave Dickens
2019 EAST COUNTY PREP BOYS BASKETBALL
LINCOLN 74, EL CAPITAN 48
EastCountySports.com staff report
LAKESIDE – The Lincoln Hornets turned up the buzz in the second half at the El Capitan gym on Monday night, outscoring the Vaqueros 22-7 in the third quarter on the way to a 74-48 victory.
Despite the Vaqueros coming in with half-a-dozen games under their belt, it was the season opener for the Hornets.
After Lincoln led 16-11 after one quarter, the Vaqueros trailed just 21-18 a little less than halfway through the second quarter.
El Cap senior Jake Pfitzner scored 20 points on 7-of-14 shooting, grabbed four rebounds and made four steals.
Jaqori Harris added a three-pointer and helped keep the Vaqueros in this one in the first half. His putback kept it withing three at 23-20 with three minutes to go in the second quarter, however, Lincoln led 33-21 at halftime after Devin McCoy banked in a circus three at the buzzer for the Hornets.
"We gave Lincoln a battle in the first half," El Capitan head coach Elias Totah said. "I was proud of our effort. We competed on both ends."
The Hornets were leading 38-23 with 4:32 left in the third and then the rout was on.
Lincoln led 42-23 with four minutes left in the third quarter. Lincoln extended their lead to 51-25 with one minute left in the third. The Hornets put on a show, outscoring the Vaqueros 19-5 in the period, including a 15-2 run to make it 55-28.
It was an impressive defensive effort in the second half by the Hornets, who outscored El Cap, 38-15, in the second half en route to the win.
"Possessions and not being methodical in the half-court hurt us," Totah said. "Self-inflicted turnovers cost us, also second and third chances on the offensive glass hurt us. We had a tough time boxing out and rebounding. We are banged up and only had seven active players, but I liked our fight."
Blaize Saiz had four first-half points for El Cap. He finished with 10 points.
Junior R.J. Lugtu added seven points for the Vaqueros.
Harris led El Capitan with five rebounds.
HIGH TECH SAN DIEGO 91, EL CAJON VALLEY 66 – Junior M.J. Rivera scored 31 points on 11-of-17 shooting and grabbed 11 rebounds for the Braves but the Storm stormed out to a 26-11 lead after one quarter.
Junior Joeffry Garcia added 10 points for the Braves.
Junior Anthony Marrouki added nine points for ECV
Juniors Ruben Jarquin and Jonathan Jarquin both had five rebounds for El Cajon Valley
Brave senior Mario Jacobs had four steals.
El Cajon Valley outscored High Tech San Diego, 26-13, in the fourth quarter.