BOYS: Scotties down Titans at tourney
Updated: December 11, 2019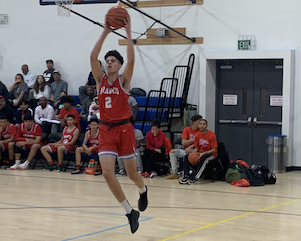 File photo by Daveion Rogers
2019 EAST COUNTY PREP BOYS BASKETBALL
EastCountySports.com staff report
CHULA VISTA – The Helix Highlanders picked up their first win at the Hilltop Tournament, defeating the Eastlake Titans, 59-50, on Tuesday evening.
Helix senior Maurice Holmes scored 22 points, while Keishon Trice added 16 points as the Highlanders evened their season mark at 3-3. The Scotties are now 1-2 at the event.
Helix led by 20 entering the fourth quarter, forcing 10 turnovers in the third to outscore the Titans, 24-8, to take a 51-31 lead.
The Highlanders led just 27-23 at halftime as Holmes and Trice scored nine points apiece over the first 16 minutes.
KEARNY 48, VALHALLA 45 – Trailing 27-22 at halftime, the Norsemen rallied to take the lead in the fourth quarter before bowing to the visiting Komets.
Valhalla's Alden Alliasen had a field goal early in the fourth to give the Norsemen a 38-37 lead.
After Kearny reassumed the lead, Justin Razooky canned a three to keep Valhalla within a point. He also added a pair of free throws late to pull Valhalla within one point once again.
Indiana Schaefer had six points in the second half for Valhalla (1-3).
SOUTHERN CALIFORNIA YESHIVA 62, EL CAJON VALLEY 58 – The Braves jumped out to a 20-6 lead after one quarter but the Hawks led 28-22 at halftime.
El Cajon Valley fell to 2-6.