GIRLS: Knights handle Monarchs early
Updated: December 11, 2019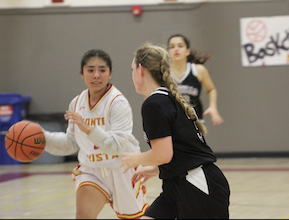 Monte Vista comes up the court against Foothills Christian on Tuesday. / photo by Dave Dickens
2019 EAST COUNTY PREP GIRLS BASKETBALL
FOOTHILLS CHRISTIAN 67, MONTE VISTA 34
EastCountySports.com staff report
SPRING VALLEY – The Foothills Christian Knights built a 45-10 halftime lead en route to a 67-34 win over the host Monte Vista Monarchs in a non-league game featuring East County teams on Tuesday evening.
Senior Ellie Turk scored 21 points, including five three-pointers, and had four assists, three rebounds, and three steals to lead the Knights, while sophomore Nataly Bravo finished with 20 points, 11 steals, seven rebounds and five assists for FCHS.
Bravo scored 10 points in the first quarter to get things rolling.
Arantxa Fonseca scored 14 points, grabbed a team-high 13 rebounds, dished out four assists, blocked four shots and made three steals for Foothills Christian.
Junior Caroline Burke grabbed eight boards, made six steals and handed out five assists.
The Monarchs' Jourdan Barber scored 14 points, including six in the first quarter.
"I played hard against Foothills Christian," Barber said. "I had a mindset of still supporting my team even though the other team was winning by 25 points in the first half. It just proved that we had to work even harder and show that we didn't give up.
"No matter what – winning or losing – you still have to work hard and keep trying because you never know what could happen."
Monte Vista was led by Samantha Gonzalez, who had 18 points, including a pair of three-pointers in the second half.
The Monarchs outscored the Knights, 15-11, in the fourth quarter.
"In the second half, we as a team started to doubt ourselves and we had to not think that way and still do our best," Barber said. "I know I had to do what I was supposed to do to support my teammates.
"This loss has taught our team a lot. We just had some trouble staying on our man and who has who, which we are able to work on through communicating with each other.
"I feel as if our team can handle our next opponent, we just need to keep playing hard and doing our best. We have to show our next opponent how we play and that we never give up no matter the circumstances.
"We are a very strong team and we all have different strengths when it comes to playing ball. I feel confident in my team and hopefully more wins to come than losses."
The Monarchs will travel to face Castle Park on Thursday at 6.
The Knights face Eastlake on Friday in the Crawford Tournament at 7:30 p.m.
VISTA 57, EL CAPITAN 44 – The Panthers led 17-13 after one quarter then extended the lead to 28-19 by halftime en route to the victory over the visiting Vaqueros in a Tip-Off Classic game.
El Capitan fell to 3-4 on the season.