GIRLS: Matadors' win is elementary
Updated: December 12, 2019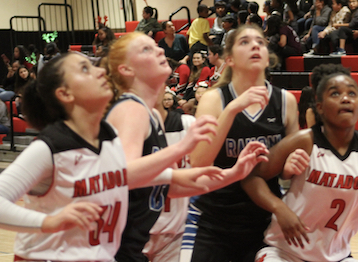 Mount Miguel's Angelina Detate (34) and Jacquee Brown (2) jostle with Ramona. / photo by Dave Dickens
2019 EAST COUNTY PREP BASKETBALL
MOUNT MIGUEL 46, RAMONA 22
EastCountySports.com staff report
SPRING VALLEY – The students from Avondale Elementary made their annual trek over to the Mount Miguel High gymnasium on Wednesday afternoon to check up on their favorite basketball team.
What they found was nothing has changed with the Lady Matadors, who once again won, impressed and put on a fun show for the youngsters in a 46-22 non-league victory over the Ramona Bulldogs.
Still, the early start time left all the players on the court and little sluggish as far as playing a crisp basketball game is concerned.
"We have a new team so we are going to have our ups-and-downs," Mount Miguel head coach Robbie Sandoval said. "Each and every day you have to approach the game with a certain mentality and we didn't do that today."
While the players may change from year-to-year, one thing that hasn't is the result.
Mount Miguel has won every time it hosts the annual event.
But even these basketball viewing novices could probably recognize freshman Jennifer Moreno following the contest.
The talented young star poured in 31 points and grabbed seven rebounds as the Matadors moved to 3-1 on the season.
Mount Miguel led 20-10 at halftime, as Moreno had a three-pointer in both the first and second periods.
By the end of the third, the stands were clear where the children once cheered, but the Matadors plodded on for the victory.
Junior Jacquee Brown had seven points and five steals for the Lady Matadors.
Freshman Ixchel Rojo added six points, 10 rebounds, three assists, and two steals.
"We really didn't get this squad together until everyone got to school," Sandoval said. "So, we really haven't had that much time together."
Moreno went to the line 11 times in the fourth quarter and finished the game 13-of-16 from the charity stripe.
Mount Miguel will play San Diego on Thursday at 5:30 at the Matador Classic.
EL CAJON VALLEY 54, SOUTHWEST (SD) 9 – The Braves' Vean Gorgees, a senior, scored 25 points, including a trio of three-pointers, as the Braves' defense suffocated the host Raiders.
Gorgees also had 10 assists, seven rebounds, and four steals, as El Cajon Valley improved to 6-3 by taking a 30-5 lead into halftime.
Freshman Ruth Taulanga added 11 points for El Cajon Valley.
Junior Silia Aboud had six points
Fineita Taulanga had five points and 12 rebounds for El Cajon Valley.
Tarry Flournoy continued her dominance of the boards for El Cajon Valley. She grabbed 16 rebounds in this one and also blocked a pair of shots.
Sophomore Paulina Peylayo had eight rebounds for the Braves.
El Cajon Valley led 18-2 after just eight minutes.
Freshman Aniah Deloatch had five steals and four assists for ECV.
The Braves shut out the Raiders in the final period, 12-0.
El Cajon Valley has outscored its last two opponents, 108-24.
The Braves travel to face Mar Vista on Friday at 6.
WEST HILLS 36, GRANITE HILLS 22 – The Wolf Pack improved to 6-0 by winning a non-league contest between the Grossmont Conference foes.
Granite Hills fell to 3-6.
Wes Hills travels to face winless Patrick Henry on Friday at 7 p.m.
The Eagles will meet Mission Bay at the Crawford Tournament on Friday at 3 p.m.