GIRLS: Matadors crush Cavers
Updated: December 13, 2019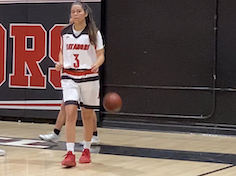 2019 EAST COUNTY PREP GIRLS BASKETBALL
EastCountySports.com staff report
SPRING VALLEY – The Mount Miguel Matadors had a big 61-13 win over the visiting San Diego Cavers in a Matador Classic game on Thursday.
Mount Miguel led 43-6 at halftime.
Jacquee Brown, a junior, had a career-high 23 points for Mount Miguel. She also had eight rebounds.
Freshman Jennifer Moreno had 18 points, three rebounds, three assists and nine steals for the Matadors.
Matador freshman Ixchel Rojo had 16 points, nine rebounds, and eight assists.
Mount Miguel improved to 4-1 on the season, while San Diego fell to 6-3 overall.
"We played a lot better than we did yesterday (in a 46-22 win over Ramona)," Mount Miguel head coach Robbie Sandoval said. "We are a different kind of team this year. We have to do things differently than we have in the past in order to be successful."
Freshman Zanna Hurst, the daughter of former Mount Miguel boys and girls head basketball coach Jimmy Hurst, had three points, five rebounds, five steals, and one assist.
Coaching Hurst has allowed a generation to come full circle for Sandoval, who was coached by the elder Hurst as a youth basketball player.
"I have learned a lot from him," Sandoval said. "He was a great mentor for me. He turned the girls' program around at Mount Miguel, then he moved to the boys' program and did a great job there, too."
Mount Miguel will face Clairemont on Friday at 4:30 p.m.
SAN MARCOS 55, EL CAPITAN 43 – The Vaqueros led 12-9 after one quarter before falling to the Knights at a Tip-Off Classic contest in San Marcos.
The Vaqueros, which extended the lead to 16-11 early in the second quarter, were held to just six points for the period, however, as San Marcos took a 23-18 lead into intermission.
San Marcos led 36-28 entering the fourth quarter.
CASTLE PARK 53, MONTE VISTA 35 – The Trojans took advantage early running out to a 29-8 start in the first half.
Monte Vista showed it could compete with a 27-24 advantage in the second half.
Castle Park led 17-4 after one quarter as the Monarchs were obviously slow to get going. It was just CP's second win of the season in seven starts.
The Monarchs fell to 5-5 on the year. They will face Pacific Ridge in Carlsbad next Tuesday at 6.
GUAJOME PARK ACADEMY 39, MOUNTAIN EMPIRE 36 –